People on board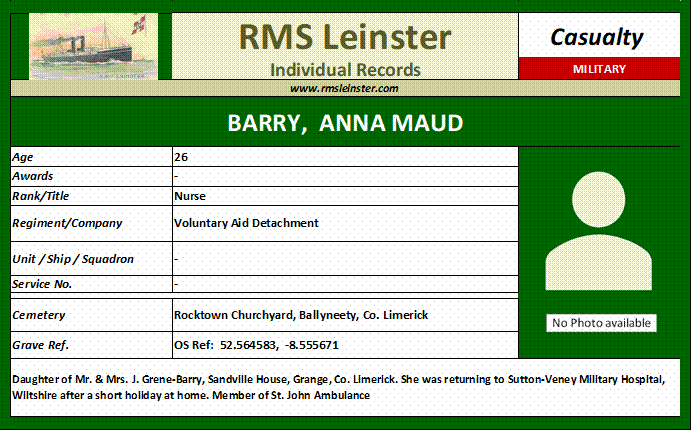 BARRY, Anna Maud
Anna Maud Barry was born on the 5th February in 1892 to James Grene Barry and Mary Kane, one of seven children. The family were living in George Street, Limerick at the time of Anna's birth, later moving to 'Sandville' in Ballyneety, just outside the city. James was a J.P. and prominent member of Limerick society, being an active member of many public bodies, as well as being an archaeologist and antiquarian.
Anna Maud enrolled as a V.A.D. with St John Ambulance Brigade and in 1918 was working in the Sutton Veny Military Hospital in Wiltshire, England, which was beside a military camp which housed many Australians, amongst others. She was returning, on the RMS Leinster to duty in the hospital after ten day's holiday in Ireland. She died in the disaster and her body was identified from her passport.
She was buried in the family graveyard at Rockstown, a short distance from Sandville.
.