People on board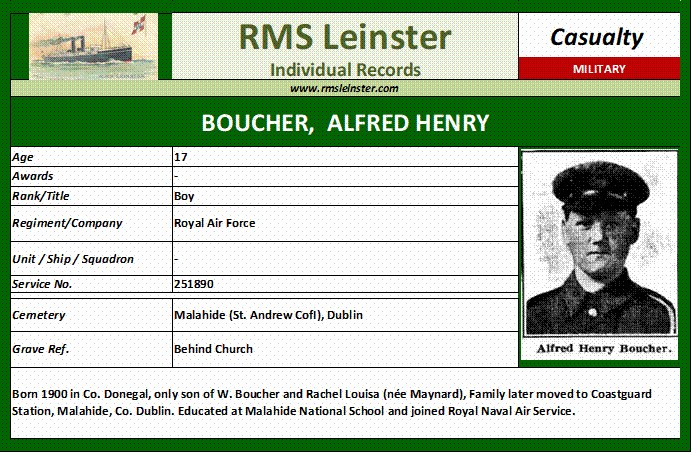 BOUCHER, Alfred Henry
Alfred Henry Boucher was born on 26th October 1900 to William Boucher and Rachel Louisa Maynard, the only son of five children. William and Rachel Louisa were both born in England and were married there and their first child, Ida, was born there. William had been a Petty Officer in the Royal Navy, but by 1900, when Alfred was born, he was in the Coastguard Service in Ireland, stationed at Bunbeg, Dunfanaghy, Co Donegal. They were still there for the birth of their third child, Dorothy, in November 1901 but had transferred to Portstewart in Co Derry when the next child, Nellie Ella, was born in 1906. The final child, Mary, was born in 1908 and William Boucher was then in Baldoyle, Co Dublin. The next move was not far, to Robbswall, Malahide where the family were at the time of the 1911 census.
According to the De Ruvigny Roll of Honour Alfred was educated at Malahide National School and joined the Royal Naval Air Service. His RAF papers state that prior to joining he had been a 'Paper Trade Worker'. He served on the ship President II during March 1918 and was then in training at Fort Tregantle, Torpoint in Cornwall and at RAF Cranwell. The Roll of Honour quoted his Commanding Officer describing him as having "a painstaking and persevering disposition" and "was soon to have been selected for a Cadetship, and to be made a flight officer."
Presumably Alfred Boucher was returning to England from leave to visit his family when his promising life was cut short by the torpedo which struck RMS Leinster on the 10th October 1918. His body was not recovered but he is remembered on a distinctive headstone in the graveyard adjoining St Andrew's Church of Ireland in Malahide as well as on the De Ruvigny Roll of Honour.