People on board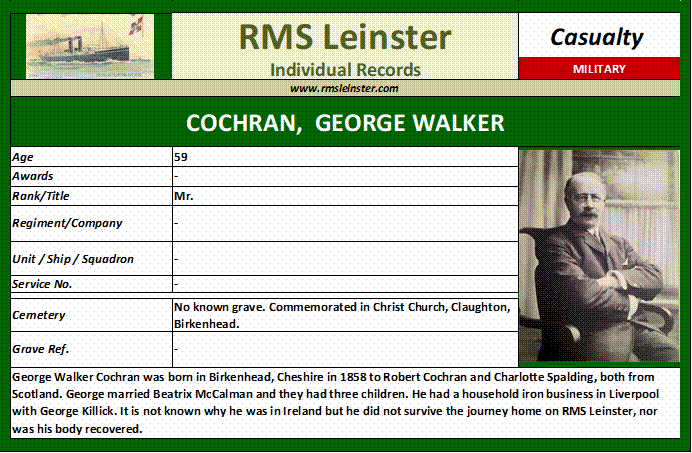 COCHRAN, George Walker
George Walker Cochran was born in December 1858 in Birkenhead, Cheshire to Robert Cochran and Charlotte Spalding. Both Robert, a Merchant, and Charlotte were born in Scotland and George was the fourth of their five children. In 1861 the family was living in Oakfield Villas, Conway Street and there was a Housemaid and two Nurses to help. Charlotte died in 1869 at the age of forty-two and Robert never remarried, though he lived until 1910.
In the 1881 census both George and his older brother Robert gave their occupation as 'Commercial Clerk Iron'. In 1885 George married Beatrix Milne McCalman, a School Governess born in Birkenhead, but whose parents were from Scotland. George and Beatrix had three children, Beatrice 1889, Dorothy 1891 and George Gordon in 1895.
In the 1901 census, when they were living in Chetwynd Road, and again in 1911 when they were in Alexandra Road, George gave his occupation as 'Ironfounder'. The Electoral Registers give him as having a 'counting house and workshop' at 51 and 53 Seel Street, Liverpool with George E Killick. Kelly's Trade Directory list George Walker Cochran as 'Engineer and Iron Founder' of Killick and Cochran. George Killick's entry in the 1911 census is clearest –'Ironfounder and Heating and Cooking Apparatus Maker'. Newspaper entries show them as making boilers and radiators among other iron goods.
It is not known why George Cochran had been in Ireland in 1918 but probably on business. He travelled home on RMS Leinster on the 10th of October but he did not survive the sinking. His body was not recovered but a memorial service was held for him in Christ Church, Claughton in Birkenhead. The Vicar described him as "a model of direct dealing and straight practice'. He praised him for the work he had done for the church, especially his organisation of the Home for the Belgian refugees in the early years of the war. George Walker Cochran's name is remembered on a marble plaque in the church.