People on board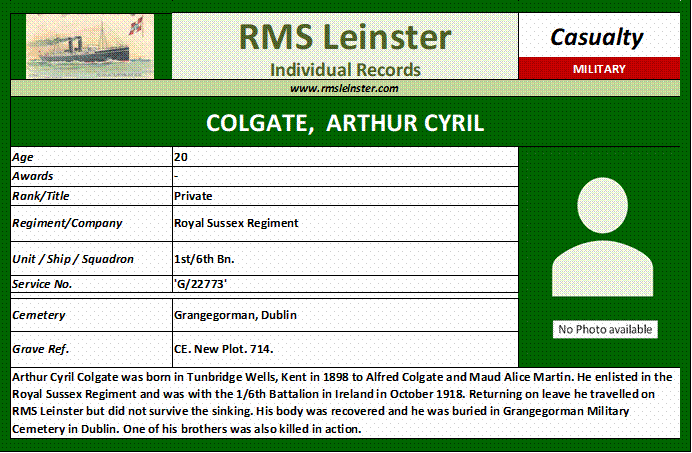 COLGATE, Arthur Cyril
Arthur Cyril Colgate was born in 1898 in Tunbridge Wells, Kent to Alfred Colgate and Maud Alice Martin. Arthur's family name was sometimes written as Colegate, particularly on his military records. He was the fifth in the family of eight, all of whom were alive in 1911. Alfred Colgate was an Agricultural Labourer and in the 1911 census the occupations of the two eldest boys were 'Ironmongers Porter' and 'Grocers Errand Boy'.
It is not known when Arthur Colgate enlisted at Tunbridge in the Royal Sussex Regiment. In October 1918 he was with the 1/6th (Cyclist) Battalion which had moved to Ireland in early 1918 to Tralee and on to Limerick in August. Presumably returning home on leave he travelled on the 10th of October on RMS Leinster. He did not survive the sinking but his body was recovered and he was buried in Grangegorman Military Cemetery in Dublin.
A note in the margin of the Register of Soldiers' Effects for Arthur Colgate gives a glimpse of his character and of the family problems. It says that the moneys due to him, £7 11s 10d, were to go the Medical Superintendent, Kent County Mental Hospital, Maidstone "to provide extra comforts for the late soldier's father". Alfred Colgate was still a resident in the Maidstone Mental Hospital in the 1939 Register and died there peacefully in 1945.
That was not the only difficulty that the family faced in 1918. One of Arthur's older brothers, Albert Percy, who had enlisted in the Royal West Kent Regiment, was killed in action in France in March 1918 and his body was not recovered. His eldest sister, Bertha Louise, died on the 29th of October, aged twenty-five. Their mother remembered all three in regular newspaper notices in the following years. Both Arthur Cyril and Albert Percy are remembered on the Tunbridge Wells War Memorial.