People on board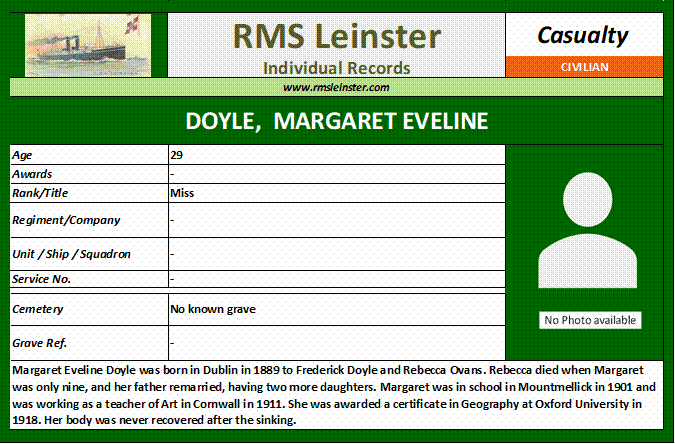 DOYLE, Margaret Eveline
Margaret Eveline Doyle was born in Dublin on the 19th of March 1889 to Frederick Doyle and Rebecca Ovans, who had been married according to Methodist rites. They were living on Hollybank Road, Drumcondra and on the marriage certificate Frederick gave his occupation as an 'Accountant', though subsequently it was often 'Clerk'. Rebecca's father was a Shoe Manufacturer / Merchant. Margaret appears to have been an only child, and Rebecca, known as Ruby, died in November 1898 aged thirty-seven, leaving Frederick with a nine year old child.
Frederick remarried in September 1901 to Catherine Jack from Lucan. In the 1901 census they were living in Hollybank Road while Margaret was a pupil at the Society of Friends school in Henry Street, Mountmellick, named as Eveline M. By 1911 Frederick and Catherine had two children, Freda and Charlotte, and the family had moved to Lindsay Road in Glasnevin. This time Frederick's occupation was detailed as 'Clerical Staff, Guinness & Son'. Catherine's mother and sister were living with them at the time.
From 1907 Margaret was a teacher of Art at the Rudyard Preparatory School in St Austell in Cornwall. In 1914 she was registered with the Teachers Registration Council of England and Wales, giving her qualifications as 'Royal Irish Academy of Music Certificate & Teachers Drawing Certificate'. A doctoral student at the University of Oxford, while researching students in the School of Geography, found a Margaret Eveline Doyle who completed the Certificate of Geography in the summer of 1918.
She was presumably returning to her teaching post when she travelled on RMS Leinster on the 10th of October 1918. She did not survive the sinking and her body was not recovered. That same year, on the 31st of December, Frederick was found dead on a tram in O'Connell Street, having suffered a cerebral haemorrhage.