People on board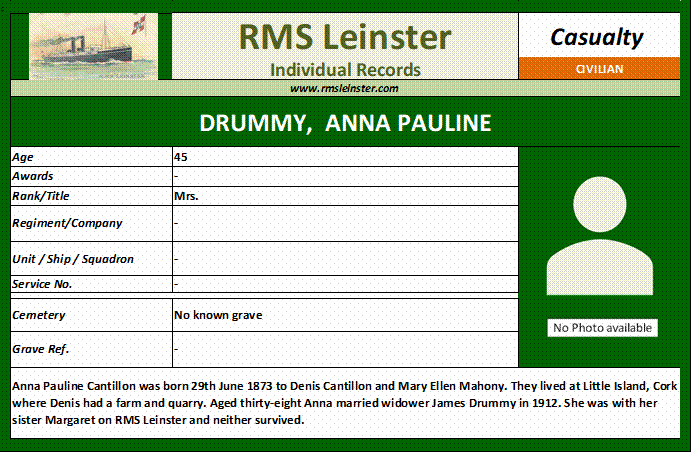 DRUMMY, Anna Pauline née Cantillon
Anna Pauline Cantillon was born on the 29th of June 1873, the fourth of the eleven children of Denis Cantillon and Mary Ellen Mahony. The family lived in Rockfarm, also known as Na Carriga, at Little Island, Cork. Denis styled himself a 'Gentleman Farmer' and there was a valuable limestone quarry on the farm. In 1881 there was a raid on the Magazine housing the blasting material, and a significant amount was stolen. In 1893 Denis Cantillon was appointed a Justice of the Peace for Little Island. From the censuses it is clear that not only were the Cantillons living in the only 1st Class house in their immediate area, but Denis also was the landlord for six adjoining 3rd Class houses.
In the 1901 census three unmarried daughters in their twenties, Eleanor, Anna and Margaret, were living at home with their parents and youngest brother Joseph, then aged sixteen. Their father died in February 1911 aged seventy-seven. In 1911 their eldest brother, Denny Edward, was married and a qualified doctor working in Cardiff, while their younger brother Rev Francis John was head of the Capuchin Friary in Kilkenny. Anna cannot be found in any 1911 census, but the following year, at the age of thirty-eight, she married James Drummy, a Collector of Harbour Dues. He was a widower who had been married to Elizabeth Cantillon, also of Little Island, possibly a cousin, who had died in 1903. There do not appear to have been any children.
It is not clear why Anna Drummy was travelling on RMS Leinster on the 10th of October 1918, but she was accompanied by her sister Margaret who may have been living in Cardiff at the time. Neither sister survived the sinking, nor were their bodies recovered. In February 1919 their sister Eleanor applied for administration of their estates, which was finally granted the following November.