People on board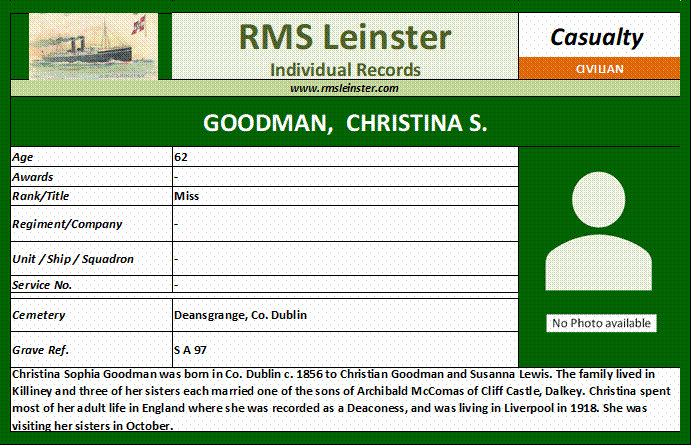 GOODMAN, Christina Sophia
Christina Sophia Goodman was born in Co Dublin about 1856 to Christian Goodman and Susanna Lewis. Christian was a Merchant, with an address at Rutland Square in Dublin when he married in 1846. Five daughters have been identified and the family lived in Kilmore House in Killiney before moving to Lansdowne Road in Ballsbridge. Three of Christina's sisters married three sons of Archibald McComas of Cliff Castle, Dalkey.
In the 1891 census Christina was a single, thirty-five year old 'Visiting Governess' in Dover and in 1901 she was a Boarder in Kingston, Surrey when she gave her occupation as 'Deaconess', though there is no indication of where she was working. That year Caroline McComas, Christina's eldest sister and then a widow, was living in Howard Place on Marine Road in Kingstown, beside the Royal Marine Hotel. With her were her five daughters and one son and her youngest sister, Frances. In 1911 this same household was living at 33 Merrion Road, and Christina was also present. Again she gave her occupation as 'Deaconess'.
She may have been simply visiting her sisters as her address in 1918 was 117 Parliament Street, in the Georgian quarter of Liverpool. She was presumably again visiting in October 1918 and returning to Liverpool when she travelled on RMS Leinster on the 10th. Christina did not survive the sinking, but her body was recovered and she was buried in Deansgrange cemetery in the same plot as her sister's husband, William McComas.