People on board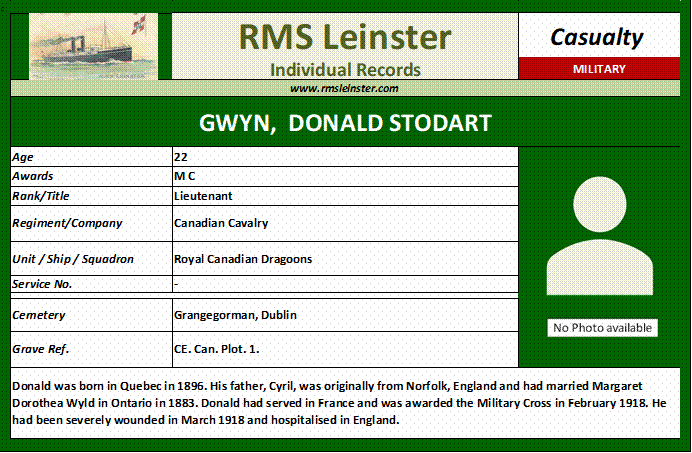 GWYN, Donald Stodart
Donald Stodart Gwyn was born in Quebec in 1896, the youngest of five children. His father, Cyril, had been born in Norfolk, England and was apprenticed as a Brewer in Yorkshire. He emigrated to Quebec in 1883, following his older brother who was already farming in Ontario. In November of that year Cyril married Margaret Dorothea Wyld in Dundas, Ontario and their first child, Dorothea, was born there in September 1884. Cyril's profession was given as Brewer. A son, was born in January 1886 in New Jersey, but the family were back in Canada for the birth of Cyril in 1889, Mary in 1894 and Donald on 1 October 1896. In 1911 the family were living in the town of Sherbrooke in southern Quebec.
Donald was educated at the private Bishop's College in Sherbrooke, a school that numbered sixty five boys and three masters among the WW1 deceased. He went on to the Royal Military College in Kingston, Ontario and was commissioned into the Royal Canadian Dragoons in June 1915. He served with the Canadian Overseas Expeditionary Force on the Western Front from 1917. He was awarded the Military Cross for an action in Normandy in February 1918. The citation read "For conspicuous gallantry and devotion to duty during a raid on the enemy's trenches. He led his men with great energy and determination, and by his fearless leadership overcame the enemy's resistance. He set a splendid example to all ranks."
The following month Donald Gwyn was severely wounded and was brought to hospital in England. Having recovered, he went on leave to Ireland and it was while he was returning to duty that he travelled on RMS Leinster on 10 October. He did not survive the sinking, but his body was recovered. He was given a military funeral and interred in the Military Cemetery in Grangegorman.