People on board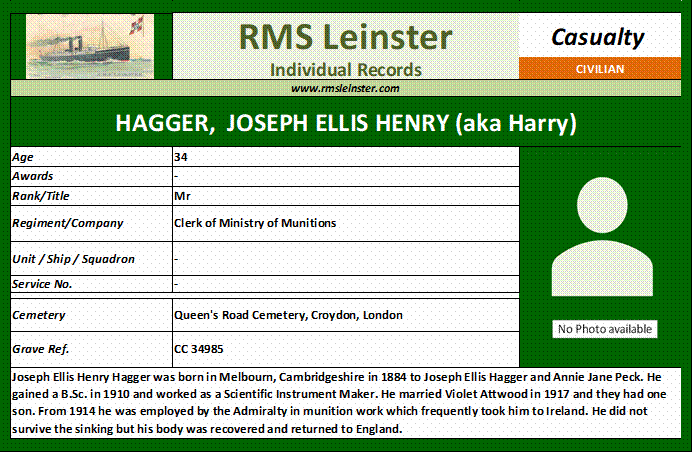 HAGGER, Joseph Ellis Henry (Harry)
Joseph Ellis Henry Hagger, known as Harry, was born in 1884 in Cambridgeshire to Joseph Ellis Hagger and Annie Jane Peck. In the 1891 and 1901 censuses the household was headed by Joseph Ellis Hagger Senior, Ironmonger and Saddler, while Joseph Ellis Hagger Junior was Manager, Ironmonger and Saddle Maker. This family business had been in operation from at least the 1860s in the village of Melbourn, south west of Cambridge. Joseph Snr died in 1902 at the age of eighty-two.
Harry Hagger was the second of the five children of Joseph and Annie, one of whom died at the age of five. Harry has not been found in the 1901 census but he received his B.Sc. from King's College London in 1910. In 1911 he was boarding in South Norwood in Croydon and he gave his occupation as 'Scientific Instrument Maker'. Living a short distance away was Violet Phoebe Attwood, a Student Teacher in 1911, whom he would marry in 1917.
According to a report in the Norwood News in October 1918 Harry Hagger had been engaged in research work with Professor Barker in Edinburgh University until the outbreak of war. Then "he was offered a very important post in connection with munition work for the Admiralty". This work took him to Ireland on many occasions and he was returning from one such trip when he travelled on RMS Leinster on the 10th of October.
He did not survive the sinking but his body was recovered, a death certificate was issued and his remains were returned to England. The informant on the death certificate was Romney Grubb, Astronomical Instrument Maker, and son of Sir Howard Grubb the famous optical designer and telescope maker. This indicates the circles that Harry Hagger had been moving in during his trips to Ireland. The Chief of the Department for which he worked is reported to have said that "he had given his life for his country as much as if he had been serving at the Front".
A memorial service took place in the Congregational Church in South Norwood and he was buried in Queen's Road Cemetery in Croydon. Violet Hagger gave birth to their son, Ellis M Hagger, in December 1918. The two were living with her mother in Croydon in 1939.