People on board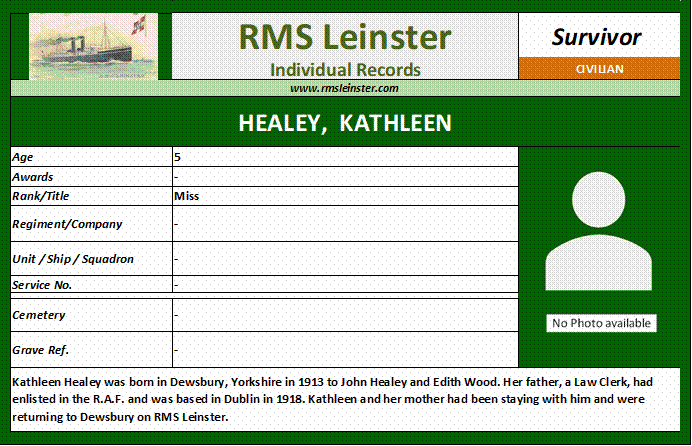 HEALEY, Kathleen M
Kathleen M Healey was born in Dewsbury, Yorkshire in 1913 to John William Healey and Edith Wood. Edith was from a family that worked in various aspects of the wool industry and she herself was a Weaver. John Healey was a Law Clerk with a firm of Dewsbury solicitors, Messrs. Watts and Sons as well as being deputy clerk to the Dewsbury Insurance Company. John and Edith married in 1912 and Kathleen was their only child.
John Healey enlisted as an Air Mechanic with the Royal Air Force and in 1918 was stationed in Dublin. According to newspaper reports he had been home on leave a few months previously, and on returning to Dublin he had been accompanied by Edith and five year-old Kathleen. They were returning home to Ravens-House Street in Dewsbury on the 10th of October when they travelled on RMS Leinster. Their relatives in Dewsbury received a telegram from John Healey in Dublin to say that Edith was missing after the sinking, but that Kathleen had been saved. Edith's body was not recovered.
This was the second tragedy that the Wood family faced, as Edith's younger brother, Joseph Alfred, had been killed in the war in May 1917. It is not known how Kathleen fared in her life after the ordeal. John Healey remarried in 1922.