People on board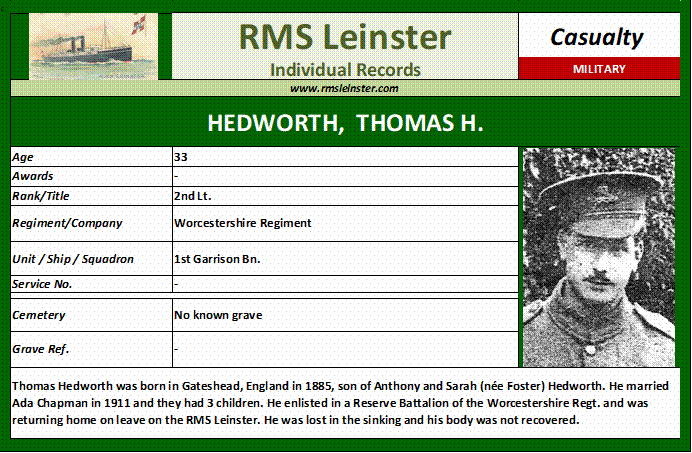 HEDWORTH, Thomas H.
Thomas H. Hedworth was born on the 18th of August 1885 in Dunston, Gateshead in north east England. His father, Anthony Gustavus Hedworth was a Wood Turner and his mother, Sarah Forster, was from Durham. Thomas was the eldest of their seven children. In 1891 the family were living in the 'new town' of Washington near Durham where Thomas was admitted to school in 1898. In 1901 they were back in Dunston and Thomas, aged fifteen, was a 'Shipping Clerk'. By 1911 his two brothers were working in the local colliery, one above ground and one below. Thomas had left the north of England and in early 1911 he married Ada F Chapman in Worcester where he was working as a Clerk in the Valuation Office of the Inland Revenue. At the time of the census that year they were living with Ada's widowed mother and three of her siblings in a house in Middle Street in Worcester.
Thomas and Ada had three children, Thomas in 1911, Doreen in 1913 and Selby in July 1916. By 1918 they were living in Barry Street in the Arboretum area of Worcester. Thomas was a member of the Territorials for whom he trained the boys of Worcester Royal Grammar School. He enlisted in the 1st Reserve Garrison Battalion of the Worcestershire Regiment, which had been formed in Portsmouth in January 1916. The battalion moved to Ryde on the Isle of Wight in 1917 and by June 1918 was in Dublin.
Thomas had been appointed Second Lieutenant in September 1918 and was returning home on leave when he travelled on RMS Leinster on the 10th of October. He did not survive the sinking and his body was never recovered.
Ada remarried in 1922 and was living in Herefordshire in 1939. Her son Thomas also married and lived in Gloucestershire working as an Insurance Clerk. Both Doreen, a Chiropodist, and Selby, an Aircraft Inspector were single in 1939.