People on board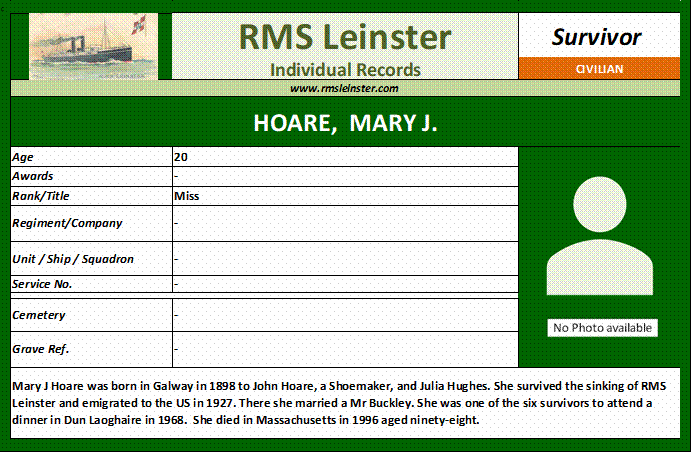 HOARE, Mary J (Buckley)
On Saturday October 12th 1918 the Irish Independent reported that a number of articles from RMS Leinster had been recovered. One of these was a bag containing a photograph of a young girl with the name "M. Hoare, Galway". Fifty years later Mary Buckley, née Hoare, attended a commemorative dinner in Dun Laoghaire of survivors of the sinking, giving her address as Randolf, Massachusetts. The U.S. Social Security Death Index records the death in 1996 of Mary J Buckley, Randolph, Norfolk, Mass. with a date of birth of 25th February 1898. I believe that all these clues lead to the same person.
Mary Joseph Hoare was born on the 25th of February 1898 in Church Lane, Galway to John Hoare, a Shoemaker', and Julia Hughes. Mary was the third of their eight children, all of whom were alive in 1911. In 1901 the family was living in Glasgow, in Back Lands, Fountainwell Road and John's occupation was a 'General Labourer'. In 1911 Julia and the eight children were back in Galway, living with her widowed mother and older sister in Bohermore but John was not there. However the fact that all the children were born in Galway and that the youngest was only one year old suggests that the family had not stayed long in Glasgow and that John was elsewhere in Ireland.
In August 1927 Mary J Hoare emigrated to Boston, Mass. on SS Samaria, giving Mrs Hoare, Bohermore, Galway as her contact in Ireland, and her older brother Thomas, State St., Boston as her contact in the U.S. Her subsequent marriage to Mr Buckley, and any possible children, has not been positively identified, though there are some possible census entries. There is a record from 1961 of Mary J Buckley, US citizen, birthdate 25 February 1898, and living in Dorchester, boarding at Shannon to travel to Boston on Aer Lingus flight EI 113.
Unfortunately a similar record has not been found for her trip to Ireland in 1968 when former crew member, Tom Connolly, organised a dinner for six survivors of the sinking of RMS Leinster fifty years before. Mary recounted her memories of that time to the Evening Press saying that she had managed to get into the water and on to a life-raft where she was with a soldier from France, and they prayed together all the time. When the raft was overturned she lost consciousness but woke up in Kingstown. There a local family looked after her for three months and re-united her with her mother.
Mary J Buckley, née Hoare, died in Randolph, Mass. in 1996 at the age of ninety-eight.