People on board
HOBSON, Elizabeth Margaret (Lily)
Elizabeth Margaret Hobson, known as Lily, was born in Drogheda on 15 April 1882, the youngest of four children born to Abraham Hobson and Elizabeth Fennell. Abraham, who was a widower when he married Elizabeth in April 1877, was born in Donard, Co Wicklow in 1836 into a Church of Ireland family that suffered significantly during the Famine. Elizabeth Fennell's father was a Justice of the Peace from the townland of Mayo in Queens' County (Laois). One of Abraham's brothers, Richard, was ordained in the Anglican Church and became a much loved minister of a parish in Liverpool, in one of the most deprived areas. He wrote an autobiography which touched on his early life in Wicklow. In 1861 Abraham married Jane Fitzpatrick in Dundalk and there were at least three children born, Mary, Sarah and William, before she died in January 1877. Also in 1861 his sister, Marianne, married Robert Cathcart in Drogheda, who had a long-established bakery business on Shop Street in the town
It was in that business that Abraham was working as a Clerk / Accountant when he re-married in 1877, and he and Elizabeth had their four children in Drogheda. The first born in 1878, Nathaniel Fennell, died in infancy. He was followed by Catherine, later known as Kathleen, in 1879, Nathaniel James in 1881 and Elizabeth Margaret in 1882. The family lived in Rose Hill Cottage on Chord Road, a property that was described as "A charming residence with a valuable garden of over one acre" and "with a splendid view of the River Boyne and the Harbour of Drogheda".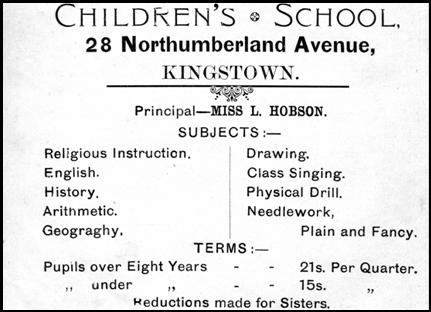 In late 1896 Abraham sold Rose Hill Cottage and moved to Belfast. The family were living in St Ives Gardens in south Belfast in the 1901 census, with Abraham describing himself as a 'Commercial Agent'. Nathaniel was a Baker, Kathleen a Shorthand Typist and Lily a Book Keeper. In 1907 Nathaniel had married and in the 1911 census was living in Oakland Avenue, in east Belfast, while Kathleen was boarding not far away. Abraham and his wife and daughter Lily had moved to Dublin in 1910, and were living in Northumberland Avenue in Kingstown.
In 1913 Nathaniel was declared a Bankrupt in the Belfast Bankruptcy Court and he and his family left Belfast for England and settled in Daffodil Avenue in Birkenhead. Meanwhile Lily was running a private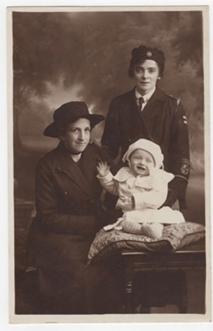 school in the family home on Northumberland Avenue, Kingstown. In about 1915 she joined the St John Ambulance Brigade as a V.A.D. nurse. At some stage she was nursing in Bidston Hospital in Birkenhead, formerly a school, and only a short distance from where her brother and family were living.
Nathaniel had enlisted in the 5th King's Liverpool Regiment and had been promoted to Lieutenant. He was on leave visiting his parents in Kingstown with his eldest son Richard in October 1918 and Lily was in Kingstown as well. Returning to England, all three travelled on the 10th on RMS Leinster. None of the three, Lily, Nathaniel or ten year old Richard, survived the sinking and no bodies were recovered.
Lily's parents moved to Carlow after the tragedy and Abraham died there in 1920. When Elizabeth died in 1927 the only surviving daughter, Kathleen, was present at her death. They are both buried in Dunleckney graveyard in Bagenalstown, Co Carlow, and Lily, Nathaniel and Richard are all named on the gravestone. The following year Kathleen emigrated to Hamilton, Ontario to Hobson relatives, but she returned to Ireland and died in Rathcoole, Co Wicklow in 1957.