People on board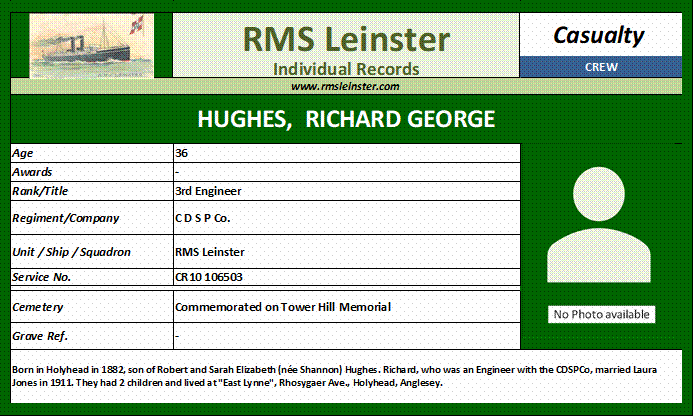 HUGHES, Richard George
Richard George Hughes was born in Holyhead on 20 September 1882 (according to his C.R.10 card) to Robert Hughes and Sarah Elizabeth Sutton. Robert Hughes was a Railway Clerk and at the time of his marriage his family was living at Old Station in the town. In the 1891 census Robert was a 'Railway Station Foreman' and the family were living in Tower Gardens, later moving to Cambrian Street.
Richard was the eldest of five children, four boys and one girl. In the 1901 census he gave his occupation as 'Apprentice Engine Fitter' and from 1906 he was working with the City of Dublin Steam Packet Company on the Mailboats, starting as a Fifth Engineer. In the 1911 census he was Second Engineer on RMS Connaught with Captain Birch, in Kingstown that night. He was Fourth Engineer on the Connaught in 1915 and on 10 October 1918 he was Third Engineer on RMS Leinster.
Richard married Laura Jones in September 1911 and they had two children. They lived at 'East Lynne', Rhosygaer Avenue in the town. It is believed that he was not due to sail on RMS Leinster on the 10th but changed his shift as a favour to a friend. He did not survive the sinking and his body was not recovered, but he is remembered on the family grave in Maeshyfryd cemetery and is commemorated on the Tower Hill Memorial.
He was awarded the Mercantile Marine Medal and British War Medal and these are on display at the Holyhead Maritime Museum.