People on board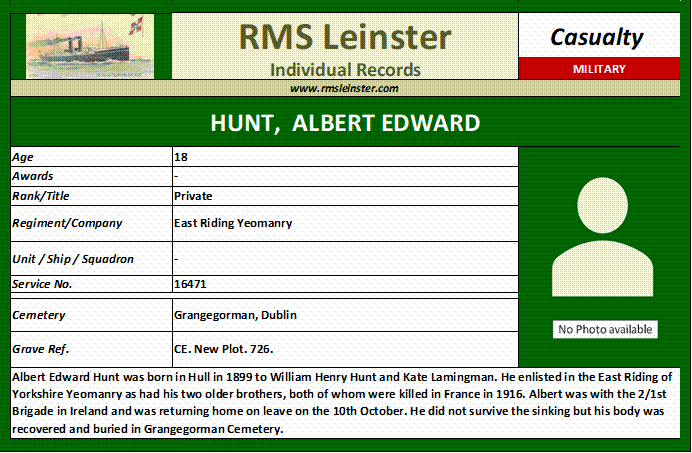 HUNT, Albert Edward
Albert Edward Hunt was born on the 14th of October 1899 in Hull, Yorkshire to William Henry Hunt and Kate Lamingman. He was the fourth of their eight children, six of them boys. William Hunt gave his occupation on his marriage certificate as Ship's Captain but later as 'Keelsman'. Keels were large, barge-like boats that transported goods, especially coal, from riverside places to larger collier ships. In the 1901 census he was away from home, Master of the boat Alice, with a Mate at East Stockwith in Lincolnshire. In that census, though at home with the children, Kate Hunt described herself as 'Keelwoman, Barge'.
Kate no longer had an occupation in the 1911 census, though William continued as a Keelman, their eldest son William was a 'Checker' on the Great Central Railway and their eldest daughter Edith was a Tailoress. The rest of the family were at school except for the two-year old Charles. The family were living in Brown's Entry, High Street in Hull.
The two eldest sons, William and Alfred, enlisted in the East Riding of Yorkshire Yeomanry at Hull and both were killed in France, William in July and Alfred in September of 1916. Albert enlisted in the same regiment at Beverley in Yorkshire and in October 1918 he was with the 2/1st Brigade in Ireland where they had been stationed since April of that year.
Presumably returning home on leave he travelled on RMS Leinster on the 10th of October, four days short of his nineteenth birthday. He did not survive the sinking but his body was recovered and he was buried in Grangegorman Military Cemetery in Dublin. The names of all three brothers are recorded on St Mary's Church Memorial, Lowgate in Hull.