People on board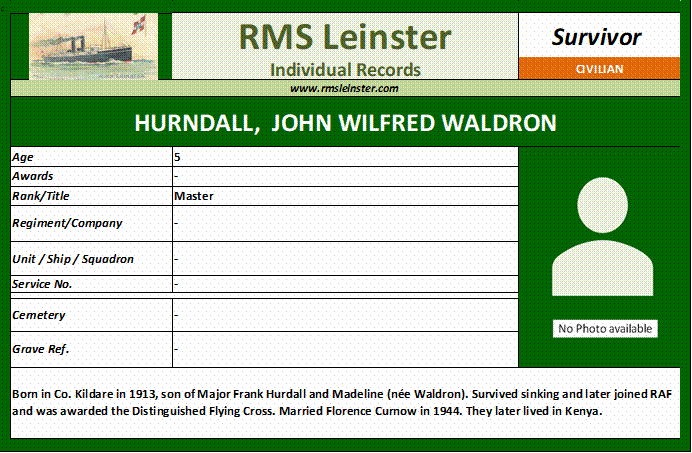 HURNDALL, John Wilfred Waldron
John Wilfred Waldron Hurndall was born 12 January 1913 to Frank Brereton Hurndall and Madeline (or Madine) Waldron at Melitta Lodge in County Kildare. His father was a rising star in the 20th Hussars and an outstanding polo player and his grandfather Waldron was a Brigadier General and central to the Irish horse racing scene.
In 1924 Frank Hurndall was in New York on the British international polo team, and when interviewed by the local press, described his experiences six years earlier on RMS Leinster on 10 October 1918. He said he was travelling with his son John (named Peter in the reports), his wife having stayed in Kildare because of influenza. After the torpedo struck the ship he managed to get himself and his son on to a raft, but lost consciousness and floated off. He was later picked up by a destroyer and brought to St Michael's Hospital in Kingstown. There he was declared dead by a doctor, but Sister Bernadette, Sister Superior in the hospital, realized there was still some warmth around his heart and after three hours of rubbing alcohol he rewarded her by opening his eyes. He credited her with saving his life. Meanwhile his son, John Wilfred, had also been rescued and was taken to a nursing home in Dublin where an aunt found him three days later and took him home. The news that John had been rescued was reported in the Freeman's Journal on the 14th.
John's military records show that he was in the Officer Training Corps at Charterhouse School. He was at the R.A.F. College in 1931, where his report was headed 'Prize Cadet', and he then transferred to RMC Sandhurst. There he was 'slow to learn to fly, otherwise satisfactory'. He gained his Aviator's Certificate in 1933, flying a Gypsy Moth. He was awarded the Distinguished Flying Cross in June 1941.
John married Florence Curnow in 1944 and in 1948 they sailed from Liverpool to Mombasa. Nothing is known of their life in Kenya, and they may have moved as, when John died in 1962 in Somerset in England, he also gave an address in the Transvaal in South Africa. Florence lived in England until 2002.