People on board
JONES, John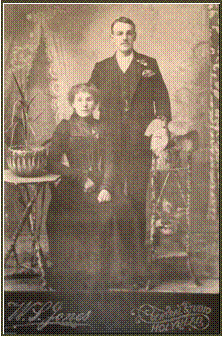 John Jones, baptised as Owen, was born in May 1879 in Holyhead to Evan Jones and his wife Jane who was born in Llanfachraeth, Anglesey. John was the fifth of at least seven children. From 1881 at least, the family lived at 17 Summer Hill Terrace in Holyhead. Evan gave his occupation as 'Labourer' in the 1881 census, but on John's marriage certificate in 1902 he was given as 'Porter' and deceased. Evan Jones died in early 1901.
'Porter' was also John's occupation on the marriage certificate when he married Alice Eaton, the daughter of an 'Inspector' in Holyhead in 1902. In the 1901 census Joseph Henry Eaton was a 'Railway Foreman'. John and Alice had at least five children and were living at 9 Cecil Street, London Road in Holyhead in the 1911 census, though John himself was in Kingstown Harbour on the night of the census, on board RMS Connaught with Captain Birch. He was just given as a member of the crew in that census but in 1918 he was a 'Greaser'. The family were living at 41 Teal Street, London Road by then.
Alice's brother was killed on the Western Front in January 1917 so the RMS Leinster disaster would have been a double blow for her. John's body was not recovered after the sinking but he is remembered on the family grave in Maeshyfryd cemetery and is also commemorated on the Tower Hill Memorial. He was awarded the Mercantile Marine Medal and the British War Medal. Alice died in 1945 and her headstone in Maeshyfryd cemetery includes the dedication to John and their daughter Jane.