People on board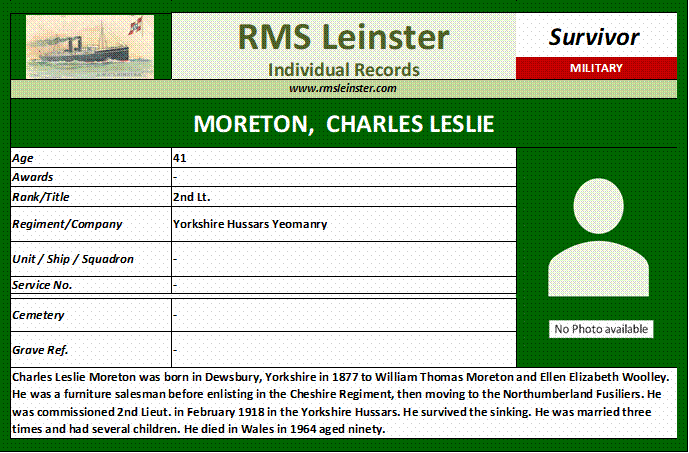 MORETON, Charles Leslie
Charles Leslie Moreton was born in 1877 in Dewsbury, Yorkshire to William Thomas Moreton and Ellen Elizabeth Woolley. He was the eldest of their six children, only three of whom were alive in 1911. William Moreton was a Congregational Minister at Earlsheaton until 1889 when the family moved to Christchurch near Bournemouth, "in the hope that a milder climate may prove beneficial to his children", as the Dewsbury Reporter expressed it.
In September 1898 Charles Moreton married Katherine Agnes Williams in Christchurch. In 1901 they were living in Bristol where he was a 'House Furnishing Salesman'. However the marriage didn't last and in 1907 both remarried. Katherine married James Disraeli Kerridge, a Merchant Navy sailor, who was Chief Officer of the hospital ship Glenart Castle when it was torpedoed and sunk in February 1918. He subsequently died at sea in 1920.
Charles Moreton returned north and married Elizabeth Gibbs in Salford. They had a daughter, Dorothea Elizabeth, in 1908 in Toxteth Park but by 1911 they had moved to Liscard on the Wirral in Cheshire. There Charles was the 'Manager of the Upholstery Department of a House Furnishing Shop'. Nothing more is known of Elizabeth Moreton née Gibbs, though in 1933 their daughter married a man also brought up in Liscard.
Charles Leslie Morton first enlisted in the Cheshire Regiment in 1915 where he was a Sergeant, Service Number 12039. He subsequently transferred to the Northumberland Fusiliers, again as a Sergeant, Service Number 268016. On the 24th of February 1918 he was commissioned 2nd Lieutenant in the Yorkshire Hussars and posted to the 2/1st Battalion which moved to Ireland the following April. Presumably returning on leave he travelled on RMS Leinster on the 10th of October but survived the sinking.
The next record of Charles Moreton is in the Liverpool Electoral Register of 1930 when he was living with his widowed mother and a woman named Maud Emily Wallett. In the 1939 Register Charles and Maud, given as Married though a certificate has not been found, were living in Bausley, Montgomeryshire in east Wales. Two or perhaps three children were born of this marriage but that has not been confirmed. Charles Leslie Morton died in Hay, Breconshire in 1964 aged ninety.