People on board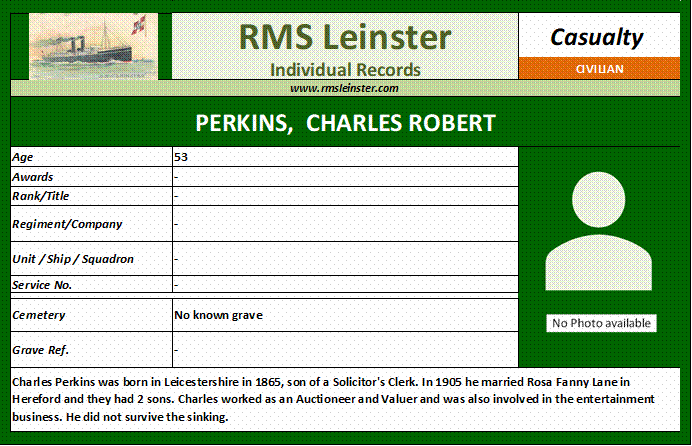 PERKINS, Charles Robert
Charles Robert Perkins was born on the 10th of September 1865 in Ashby de la Zouch in Leicestershire. His father, Robert Perkins, a Solicitor's Clerk, and his mother, Sarah Ann Rands, had married in Northamptonshire the previous year, and there was one other child, Emily Jane, born in 1968. Robert died in 1880 and in the 1881 census Charles was living with his mother in Northampton, where, at the age of fifteen, he was an 'Auctioneer's Articled Clerk'. His sister Emily had remained in Ashby de la Zouche with relations; she married in 1896 and emigrated to Canada in 1908, where she died in 1944.
In 1891 Charles was still living with his mother in Northampton and he was then an 'Auctioneer, Appraiser and Share Broker'. In 1901 they were living in Cardiff as Boarders and Charles was an 'Auctioneer and Valuer'. In 1905 he married Rosa Fanny Lane in Hereford and they had two boys, Thomas Robert and Charles Edward. In 1911 they were living in Richmond, Surrey where his mother was recorded in the census as the head of the household, and Charles was a 'Valuer General'.
Charles Robert Perkins had a parallel activity to the valuation business. In 1902 he was one of the seven founders of "The New Channel Islands Entertainment Co. Ltd" in Jersey and in 1905 he was described as the 'Lessee of the Opera House' in Jersey.
This description was on the birth certificate of his first child, Thomas Robert, who was born in Jersey. In 1909 he was involved in the management of the newly re-opened Theatre Royal in Leamington Spa, but his second child was born in Richmond.
It is not known why Charles Robert Perkins was on board RMS Leinster on the 10th of October, presumably in connection with either the valuation or entertainment business. He did not survive the sinking of the ship, nor was his body recovered, but his name is recorded on his wife's grave in Richmond cemetery.