People on board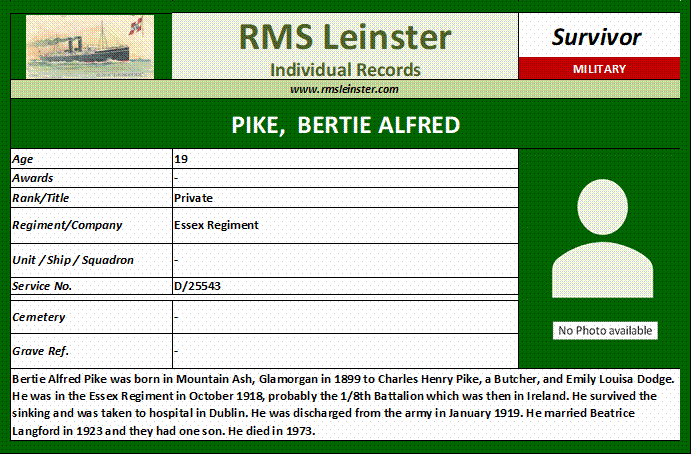 PIKE, Bertie Alfred
Bertie Alfred Pike was born on the 14th of November 1899 in Glamorgan, Wales to Charles Henry Pike and Emily Louisa Dodge. He was the ninth of their twelve children, nine of whom were alive in 1911. They lived in the village of Mountain Ash, about twenty miles from Cardiff, where Charles Pike was a Butcher. Both he and Emily were originally from Devon where the older children were born, moving to Wales about 1890. Mountain Ash was in a coal mining area and the older boys worked in related industries, though not below ground. Bertie attended Caergarw Infant School from 1905. Charles Pike died in 1916 aged fifty three.
It is not known if the three oldest boys fought in the war but Bertie enlisted in the Essex Regiment. He was almost certainly with the 1/8th Battalion which had been posted to Ireland in February 1918. Returning home on leave, he travelled on RMS Leinster on the 10th of October. He survived the sinking and was brought to the King George V Military Hospital in Dublin. His local newspaper the Aberdare Leader reported on the 26th that "his life was saved by means of a raft" after he had been severely stunned when the second torpedo struck the ship.
Bertie Pike was discharged from the army on the 7th of January 1919 because of 'disability', which may have been as a result of his experience in October. He married Beatrice Langford in 1923 and they had a son, Clifford, in 1924.In the 1939 Register they were living in Middle Row, Mountain Ash. He died in July 1973 aged seventy-two.