People on board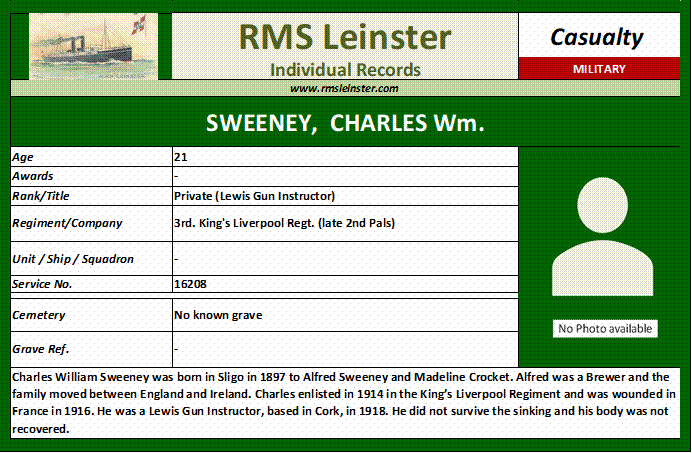 SWEENEY, Charles William
Charles William Sweeney was born in Sligo on the 7th of September 1897 to Alfred Sweeney and Madeline Crocket. Alfred was a Brewer, born in Bootle, Lancashire, and the family moved quite frequently between England and Ireland. The eldest of their eight children was born in Berkshire, the next in Kilkenny and then two more in Birkenhead. They were in Sligo by 1896, where Aileen, Charles and Alfred were born. Initially they lived in Sligo town but then moved out a few miles to Finisklin. That is where they were in the 1901 census, though Alfred Snr. was missing and the three eldest girls were at school in Sutton Coldfield in England. The youngest child was born in Omskirk in Lancashire in 1902 and it appears the family did not return to Ireland. In 1911 they were living in Liverpool though Charles and his brother Alfred were at school in Shrewsbury.
In September 1914, aged just seventeen, Charles enlisted with the King's Liverpool Regiment as a Private, and embarked for France in November 1915. In July 1916 he received gunshot wounds to the thigh and was brought back to England. In August 1917 he was posted to the Western Command of the Labour Corps. In a letter that his mother wrote to the military authorities in October 1918 she said that he, Corporal Charles Sweeney, was a Lewis Gun Instructor with the 3rd Battalion of the King's Liverpool Regiment, stationed in Cork.
That would make sense of why he was on board RMS Leinster on the 10th of October, along with seventeen others from the Regiment. Charles Sweeney did not survive the sinking and his body was not recovered. This obviously caused great distress to his family; the letter mentioned above from his mother was written on the 11th of October, the first of many communications she had with the authorities. She wrote again in November wondering was he lying badly injured somewhere in hospital. The authorities in charge of Infantry records in Preston made difficulties over a discrepancy in the addresses of the father on his original papers and of Madeline's letters. Charles' apparent transfer to the Labour Corps also seems to have caused difficulties, being confused with another soldier of the same name.
It is not clear from his records what the final communication to his parents was, or when they received it. His name is however recorded on the Hollybrook Memorial in Southampton. It is also inscribed on the Crocket / Sweeney family grave in Toxteth Park cemetery.