People on board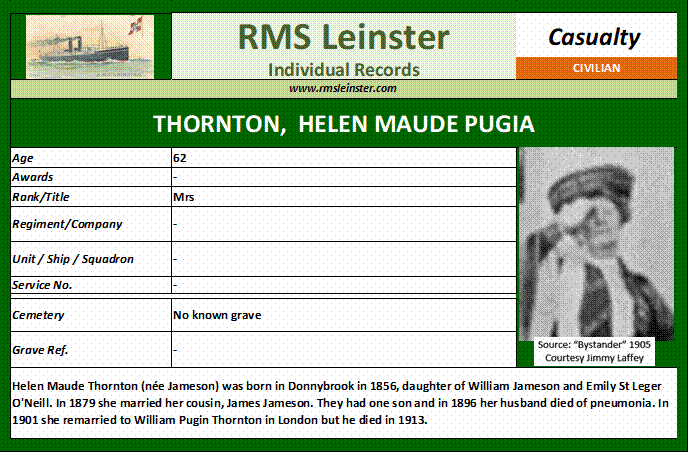 THORNTON, Helen Maud Pugin née JAMESON
Helen Maud Jameson was born in 1856, in Montrose, Donnybrook, now the site of the R.T.E. television studios, to William Jameson and Emily St Leger O'Neill. Both Helen and her first cousin James Francis Jameson, who she would later marry, were great-grandchildren of John Jameson who had established the Jameson Distillery business in Dublin in 1810. Helen was one of eight children, and the eldest daughter while James was the eldest son of the five children of the Rev John Jameson. He had inherited the Winfield Estate in the parish of Moylough in County Galway from his father, who had bought it in 1824.
James was a Lieutenant in the 7th Dragoon Guards, but resigned his commission in 1876. He took over the Winfield Estate, his father having died, and was appointed a Justice of the Peace in County Galway in 1877. In April 1879 he and his cousin Helen married and at some stage he joined the Connaught Rangers as Major. They had one child, Maurice, in 1888 and divided their time between Dublin and Galway. He died in December 1896 of double pneumonia in Adelaide Street in Kingstown, and was buried at Winfield. In the 1901 census Maurice was at school in England and Helen was living at Winfield with two maids and a gardener.
In October of that year Helen Jameson remarried in London to William Pugin Thornton, a fifty-six-year-old Surgeon from Kent. They may have lived at Winfield, as that was the address given when he was appointed a J.P. in 1905. In the 1911 census they were living at The Bowling Green, Castle Bellingham, Co Louth, where he was a 'Surgeon, not practising'. He died in March 1913, leaving Helen a widow for the second time. Her son, Maurice, then a First Lieutenant in the Royal Dublin Fusiliers, married in 1915. Helen had addresses in Castle Bellingham and Streatham in Surrey, and presumably was travelling between them when she found herself on RMS Leinster on 10 October 1918. She did not survive the sinking of the ship, nor was her body recovered.
By this time Winfield Estate had been sold and Maurice was living in England, so no inscription to mark Helen's death was added to James's headstone. Now however, in 2018, a local heritage group is working on access and signage to the burial plot, and is conscious of Helen's story.