People on board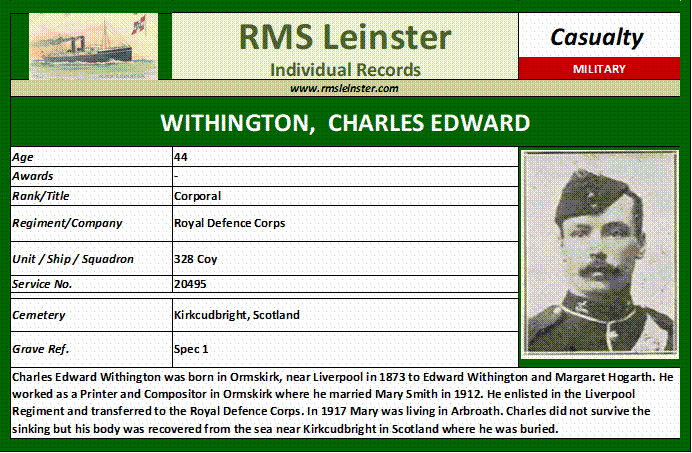 WITHINGTON, Charles Edward
Charles Edward Withington was born in 1873 in Ormskirk, just north of Liverpool, to Edward Withington and Margaret Hogarth. Edward was a Carpenter while Margaret had been a 'Hand Loom Weaver Silk' before her marriage in 1869. Charles was the fourth of their five children. In the 1891 census he was a 'Printers Apprentice' and went on to be a Printer and Compositor, working at Mr Hutton's Steam Printing Works in Ormskirk.
In 1911 Charles, then aged thirty-seven, was living with his widowed father in Scarisbrook, Ormskirk. The following year he married Mary Smith in Ormskirk and they went on to have four children, three boys and a girl. He enlisted in the Liverpool Regiment (Number 23761) and later transferred to the Royal Defence Corps.
In April 1917 their third child, Edward William, died in Friocheim near Arbroath north of Dundee. Charles was present at the death but his address was 329 Company, Royal Defence Corps, Stourbridge. The family address was given in 1918 as Dishland Street, Arbroath suggesting that Mary was originally from the area and had returned to her family while Charles was in the army.
In October 1918 he was stationed in Tralee, Co Kerry and was returning on leave to Scotland when he travelled on the 10th on RMS Leinster. He did not survive the sinking but his body was recovered on the 22nd of November at Ross Bay near Kirkcudbright in south west Scotland. His funeral took place on the 26th in St Cuthbert's Church with full military honours. He was buried in the adjoining churchyard alongside four other military survivors of the Leinster whose bodies had also come ashore in the area. A headstone was erected through local subscription.
Charles's name is recorded on the Scarisbrook Memorial in Ormskirk, on the Merseyside Roll of Honour and on the Arbroath War Memorial.