People on board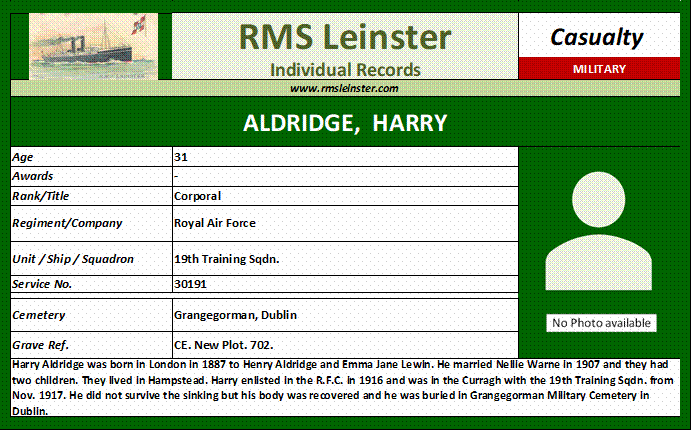 ALDRIDGE, Harry
Harry Aldridge was born in Bloomsbury, London in 1887 to Henry Aldridge and Emma Jane Lewin. Harry was the fourth of their six children, five of them boys. Henry Aldridge gave his occupation in the censuses as 'Potato Warehouseman' and in 1901 Harry and his two elder brothers were 'Clerks'. The family lived in Bloomsbury and then Hampstead.
In 1907 Harry married Nellie Warne in Hampstead and they had two children, Dorothy Grace in 1909 and Harry Frank in 1910. In the 1911 census they were living in Agamemnon Road in Hampstead and Harry gave his occupation as 'Carpenter and Joiner'. They later move around the corner to Achilles Road. In June 1916 he enlisted in the Royal Flying Corps and was posted to the 19th Training Squadron. He was appointed Acting Corporal in March 1918 and Corporal Mechanical on the 1st of September. In April 1918 the R.F.C. became the Royal Air Force. From December 1917 the 19th Training Squadron, equipped with twenty-four aircraft, was based at the Curragh in County Kildare.
Harry Aldridge was presumably returning home on leave when he travelled on RMS Leinster on the 10th of October 1918. He did not survive the sinking but his body was recovered and he was buried in Grangegorman Military Cemetery in Dublin.