People on board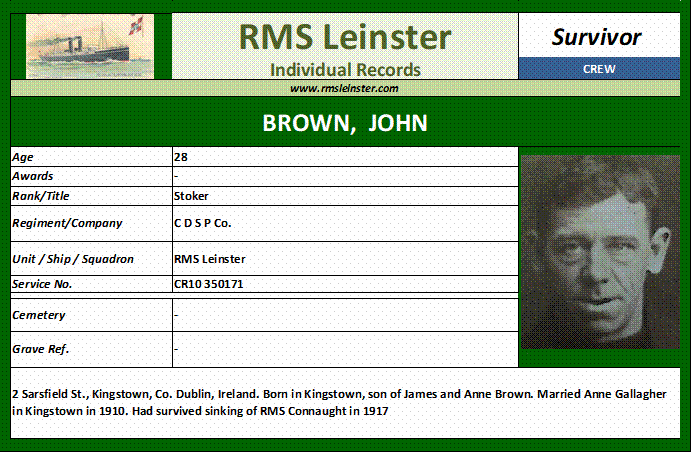 BROWN, John
John Brown was born in 1890 in Kingstown to James and Anne Brown. On John's marriage cert James's occupation is 'Labourer'. John married Anne Gallagher in November 1910 in St Michael's Church, Kingstown. His address was 58 Patrick St and hers was 3 Sym's Cottages, Patrick St.. Anne's father Patrick Gallagher gave his occupation as 'Sailor', while John's was 'Labourer'. In the 1911 census John and Anne were living in 5 Carroll's Cottages (almost certainly, Glasthule). Their first child Annie was born in 1913 and several more followed –and grandchildren.
John was listed as 'Fireman' on the Merchant Navy Crew Lists for the RMS Connaught in June and December 1916 and it is likely (and reported as such) that he was on board in March 1917 when the RMS Connaught was torpedoed and sunk. Three crew members were lost while the others were rescued. John was listed as 'Fireman' or 'Stoker' on the RMS Leinster on the 10th October 1918 and was rescued.
The family were living at 2 Sarsfield St. Sallynoggin in 1918 and the address in Annie's funeral notice in 1966 was Sallynoggin Villas. John Brown was interviewed in the Dublin Post in 1960 along with some other survivors of the sinking. He was aged 77 at that stage, and was still alive in 1966 when Annie died.