People on board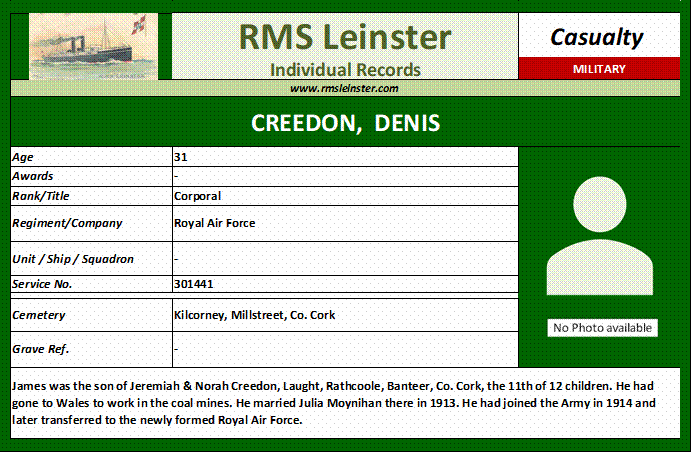 CREEDON, Denis
Denis Creedon was born on 22 April 1877 in Laught, Rathcoole near Millstreet in County Cork. He was the eleventh of the thirteen children of Jeremiah Creedon and Hanora Halloran. Jeremiah, a farmer, and Hanora had married in 1870 in Millstreet and they lived at Laught all their lives, with descendants there to this day. In 1901 one older son, John, was at home with the four youngest school-going children, including Denis. In the 1911 census, only Jeremiah and Hanora were in Laught, with another elderly couple lodging with them. The entries on the census form were all in the Irish language, in an educated script, although both were essentially illiterate.
In 1911 Denis was found in the UK census in Mountain Ash, Glamorgan, Wales where he was listed as a 'Haulier in Coal Mine (below ground)'. He was lodging with the family of Patrick McCarthy from Bantry in County Cork, also a mine worker. Mountain Ash was a colliery town in the Rhonnda, part of the South Wales Valleys. In 1913 Denis married Julia Moynihan from the town, from another mining family who had originally come from Millstreet in County Cork, though Julia herself was born in Glamorgan.
From the limited military records available it appears that Denis Creedon joined the army in December 1914, though his regiment his unknown. In September 1918 he transferred to the R.A.F. with the rank of Corporal. He was apparently returning to duty in England when he travelled on RMS Leinster on 10 October and he did not survive the sinking. His address given was that of the family home in Laught, and a young wife is mentioned in the newspaper report, but it is not clear if she was living in Cork or in Glamorgan. There appears to have been no children of the marriage. His remains were brought to Millstreet by train and he was laid to rest in the family burial ground in Kilcorney. His mother, widowed by this date, was reported to be "utterly broken up by the awful calamity".