People on board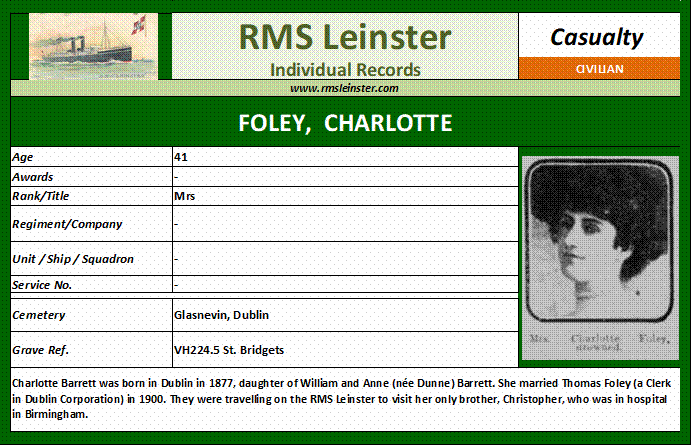 FOLEY, Charlotte (née Barrett)
Charlotte Mary Barrett was born at 10 South George's Street on 12 March 1877 and was baptised in St Michael and John's Church, Essex Quay. Her parents were William Barrett and Anne Dunne, both born in Dublin according to the census. She was one of four children, only two of whom were alive in 1911. Her brother Christopher, born in 1880, was at home in Fownes Place with his parents in the 1901 census and was a 'Messenger'. He moved to England and joined the Northumberland Fusiliers, later transferring to the Labour Corps.
Charlotte married Thomas Foley, a Clerk in Dublin Corporation, in St Michael and John's Church in June 1900. Her address on the marriage certificate was 'Fownes Buildings' in Temple Bar and her father's occupation was 'Shop Assistant'; in the census the following year it was 'Delph Packer'. Charlotte and Thomas initially lived in Rathmines Park and employed one servant, later moving to Ashfield Park in Terenure. By the time of the 1911 census they had six children; another, having been born prematurely, had died within days. They went on to have four more children, the youngest, Kevin, was born in July 1917. In 1918 their address was 12 Leinster Road, Rathmines.
Thomas and Charlotte Foley were on board RMS Leinster on 10 October 1918 on their way to visit her only brother, Private Christopher Barrett, in hospital in Birmingham. He had been seriously injured in France and died of his wounds just three days later. Neither Thomas nor Charlotte survived the sinking and Thomas's body was never recovered. Charlotte's was, and she is buried in Glasnevin cemetery.
The mother and eldest sister of Thomas Foley, both named Margaret, took on the responsibility of the ten orphaned children. Another of Thomas's sisters, Lily, had married the singer Count John McCormack, and they were then living in America with two children of their own. Having become very wealthy they were in a position to help the Foley family and they formally adopted the baby Kevin and made provision for the rearing and education of the nine older children. It is not known what became of William and Anne Barrett, who must have been crushed by the deaths of their two remaining children in the same week.