People on board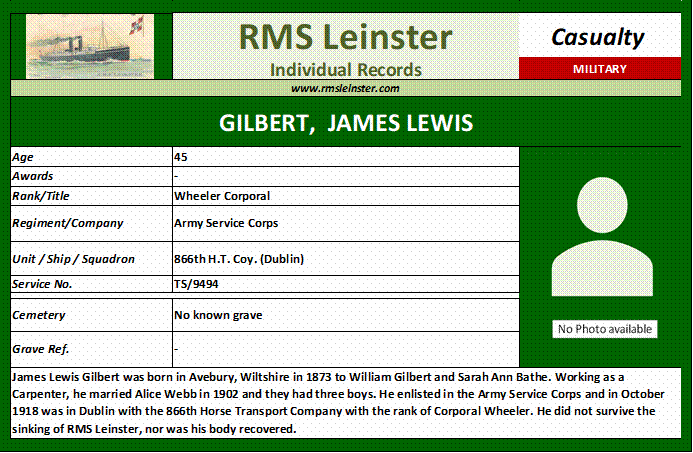 GILBERT, James Lewis
James Lewis Gilbert was born on the 5th of July 1873 in Avebury, Wiltshire to William Gilbert and Sarah Ann Bathe. He was the second of their three sons. William was an Agricultural Labourer and the family initially lived with his parents on High Street, Avebury. By 1891 they were living in Kennet Lane and James, then aged eighteen, was a Carpenter's Apprentice while his younger brother, Frederick, was a 'Plough Boy'.
William Gilbert died in 1894, aged fifty, and in early 1898 his widow, Sarah Ann, remarried in Avebury to Edward Sheppard, a 'Post Office Letter Carrier'. The family was scattered by the 1901 census and James Gilbert was a Carpenter, boarding in Reading. The following year he married Alice Webb in Henley, Oxfordshire and they had three sons, James 1904, Frederick 1906 and George 1913.
James Gilbert enlisted in the Royal Army Service Corps at Camberley, Surrey, but his available records do not say when. He gave his address then as Crowthorne, Berkshire later to be confirmed as Alpha Cottage, High Street in Crowthorne. In October 1918 he was with the 866th Horse Transport Company in Dublin. The Horse Transport Division of the A.S.C. comprised Farriers, Saddlers and Wheelers and James Gilbert held the rank of Corporal Wheeler. Presumably returning home on leave he travelled on RMS Leinster on the 10th of October 1918. He did not survive the sinking nor was his body recovered.
James Gilbert's name is recorded on the Hollybrook Memorial in Southampton and on the Lychgate Memorial in Crowthorne. Alice was living with her youngest son in Reading in 1939.