People on board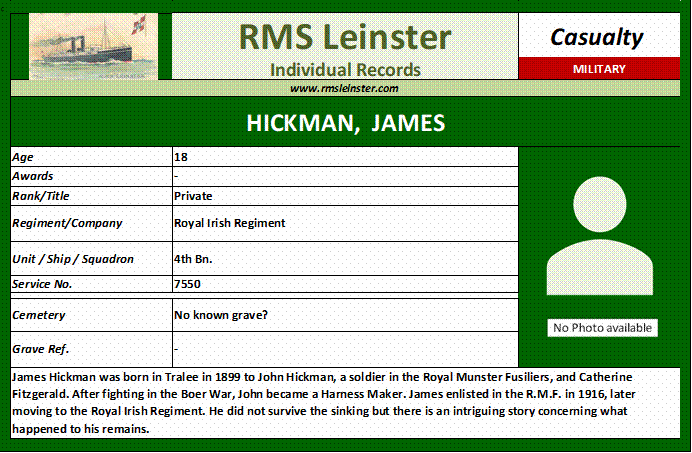 HICKMAN, James
James Hickman was born on the 5th of September 1899 in Tralee, Co Kerry to John Hickman and Catherine Fitzgerald. John, a native of Co Clare, was a soldier in Ballymullen Barracks in Tralee when he married Catherine, a native of the town. Three boys were born in quick succession, James being the third, and then John went to South Africa with his Royal Munster Fusiliers regiment. Having recently returned to Tralee, in July 1901 he was charged with being drunk and assaulting his wife. In 1902 the family moved to Kilrush in Co Clare where John worked as a Harness Maker, the same trade as his father. There, two girls and another boy was born, though both girls died.
By 1906 the family were back in Tralee, living in McCowen's Lane and John continued his career as a Harness Maker, later to be joined in the trade by two of his sons. Four more children were born between 1906 and 1911, though three died within two years of birth and the fourth died in 1916. The family were living in a four-room second class house in the Boherbee area of the town, where John was organiser of the local band. Both parents and some of the boys were several times before the courts for drunk and disorderly behaviour and various petty crimes.
When war was declared in 1914 John Hickman volunteered again and served in Flanders with the R.A.M.C. His eldest son, Harry, also enlisted with the Royal Munster Fusiliers and was reported injured in September 1916. In March of 1916 James was in court with another boy for stealing a small sum of money. His defending solicitor said that James wanted to join the army, his father and brother being at the front, but because he was only just sixteen he could not do so without the permission of his mother. Catherine Hickman gave her permission to the court and the case was adjourned to see if he would join.
It would appear that James Hickman did join, initially with the Munster Fusiliers, Number 6914, later transferring to the Royal Irish Regiment. In 1918 he was with the 4th Reserve Battalion, stationed in Larkhill, Essex, England. He was possibly returning from leave when he travelled on RMS Leinster on the 10th of October. He did not survive the sinking, nor was his body recovered. But was it?
The Westmeath Independent in January 1919 reported an intriguing story. The previous October the body of a young Athlone man, Frank Graham, who had been serving in the Royal Irish Regiment and had been on the Leinster, was returned to his mother and buried in Cornamagh cemetery, Athlone. However on the 24th of January 1919 Frank Graham arrived in Athlone, saying that he had never been on the Leinster. His only explanation was that Corporal Galvin and Private Hickman (both from the 4th Battalion R.I.R) had left for Ireland to bring back a deserter, and neither escort nor prisoner arrived in Salisbury.
Graham said that he had been friendly with both men. In 1954 Graham again spoke to the paper, this time saying that he had given his tunic, containing his identity number as well as personal papers, to James Hickman. He also said that he had made a sworn statement to that effect to the authorities "to enable Private Hickman's mother to obtain a pension".
Contemporary newspaper reports tend to support Frank Graham's story. The Freeman's Journal of the 12th of October 1918 reported that a deserter, being escorted back to England "by two or three soldiers", had been rescued while nothing more had been seen of the soldiers. The Western Mail, published in Cardiff, reported on the 30th of October that a Newport man, Corporal John Gallivan (almost certainly wrongly identified by Graham as Galvin) was a victim on the Leinster and "had gone to Ireland to bring back a deserter". Gallivan's body was recovered and was buried in Grangegorman Cemetery in Dublin. However, the Kerry People on the 19th of October 1918 had recorded 'J Hickman of Boherbee' as a victim, which suggests that he had been identified, but it is not clear by whom or when. It will never be known if James Hickman is buried in Athlone, but his name is recorded on the Hollybrook Memorial in Southampton.
See entry for John Gallivan