People on board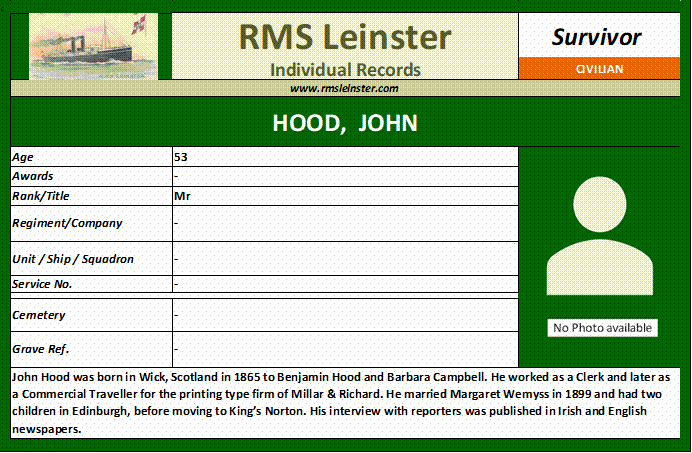 HOOD, John
John Hood was born on the 5th of April 1865 in Pulteneytown, Wick in the far north of Scotland to Benjamin Hood and Barbara Campbell. Benjamin was a Printer and John followed him in a related career. By 1889 John had moved south to Edinburgh where he married Margaret Wemyss in December of that year. On his marriage certificate he gave his occupation as 'Mercantile Clerk' and in the 1891 census this was expanded to 'Commercial Clerk Type Founder'. This was the firm Messrs. Millar and Richard of Edinburgh and London that John Hood would work for as Commercial Traveller. World famous, they designed and manufactured metal type, and supplied type to print firms all over the globe. In a report on the RMS Leinster sinking and John Hood, the Nenagh Guardian mentioned that they had purchased a new type plant from the firm a year before.
By 1901 John and Margaret Hood were living in Bristol with their two children, John Wemyss and Hilda Margaret. In 1911 they were in Northfield Road, King's Norton in Worcestershire, which is where they were still in 1918. John's position in the firm required him to travel frequently to Ireland and it was reported that he had been using the Kingstown route for twenty years.
John Hood survived the sinking of RMS Leinster on the 10th of October 1918 and spoke to reporters afterwards. He said that he had been given a lifebelt by a steward when the first torpedo struck and a sailor helped him to put it on. He got into a life boat which was successfully lowered into the water and which managed to get away just before the second torpedo struck. There were many women in the boat which "was filled to the utmost" but they still managed to pull some more people from the water, including the injured Captain Birch. They were eventually rescued by a navy ship, but unfortunately the lifeboat capsized as the rescue began and most were thrown in the water. Captain Birch did not survive but John Hood described how he succeeded in holding on to a rope and was taken on board. He later stayed in the Granville Hotel on O'Connell Street in Dublin while he recovered from the experience. His account was reproduced in many Irish and English newspapers.
His son had enlisted with the 6th Border Regiment and fought at Gallipoli, later rising to the rank of Major in the Royal Sussex Regiment. Both John Wemyss and Hilda married and had children of their own. In the 1939 Register John and Margaret Hood were still living in King's Norton where John died in July 1944.