People on board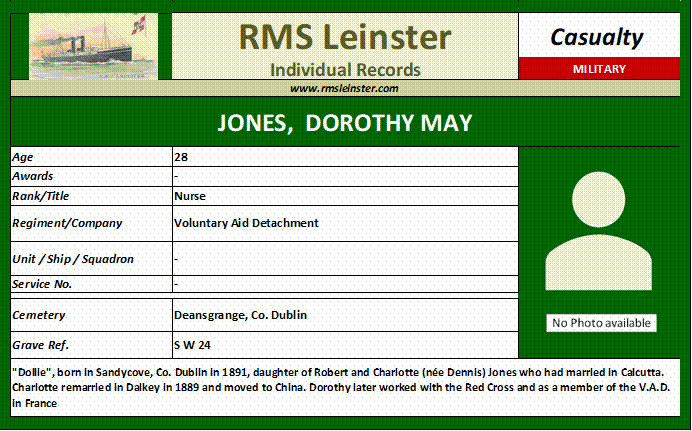 JONES, Dorothy May
Dorothy May Jones was born 21 May 1891 in Munster Terrace, Sandycove, Co Dublin. Her father's address on the birth certificate, 'Assam', gives a clue to the drama that had already engulfed her family. In 1888 her mother, Charlotte Jane Dennis, had followed her fiancé, Robert Colvill Jones, to India where he was manager of a tea plantation, and they married in Calcutta in October of that year. However, almost immediately, he began to treat her violently and in October 1890 she sought a legal separation, and once it was granted she returned to Ireland. She may not have realised that she was pregnant, but Dorothy was born the following May. She got a decree of divorce in May 1899.
Charlotte Jones née Dennis's father was a Crimean War veteran, living in Dalkey, Co Dublin, of the Dennis family of Fortgranite in Baltinglass. In July 1899 Charlotte remarried in Dalkey to Rowland Henry Rochfort Wade, born in Monkstown, Co Dublin, but working in the Chinese Customs Service. They returned to China and the first of four children was born in Shanghai in 1901. It is not clear if Dorothy went with them or not; the 1901 Irish census shows a Dorothy Jones of the right age as a 'Boarder' in Dalkey with a single woman of thirty-nine, named Katherine Wallace.
Dorothy cannot be found in either the Irish or UK census in 1911, and may have been in China. At some stage Rowland and Charlotte Wade purchased a house, 'Charleville', on Harbour Road in Dalkey. That was the address Dorothy gave when she first engaged with the Voluntary Aid Detachment (V.A.D.) with the British Red Cross in July 1917. She worked in France with the Hostel Staff, with the rank of a Whole- time Nursing Member. According to the B.R.C. records her service was terminated in September 1918, so it is not known what her role was in October 1918 or why she was travelling to England on RMS Leinster.
Dorothy did not survive the sinking of the ship, nor was her body found. The Irish Independent of 16 October listed her as "Given up for lost". She is named on her grandfather's grave in Deansgrange cemetery and is commemorated on the War Memorials in Christ Church, Dun Laoghaire and St Patrick's Church in Dalkey.