People on board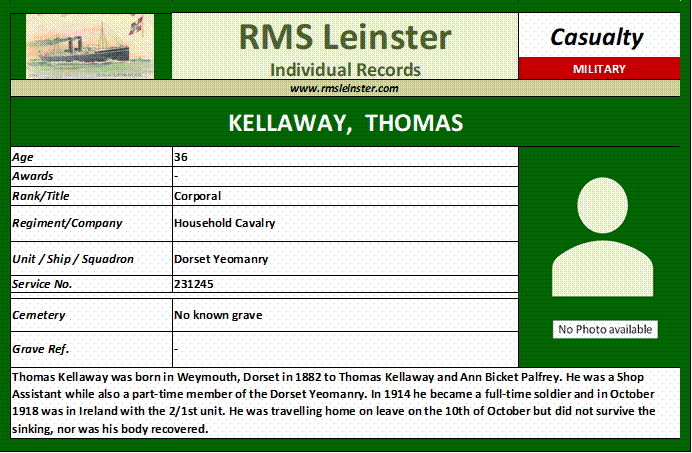 KELLAWAY, Thomas
Thomas Kellaway was born in 1882 in Weymouth, Dorset to Thomas Kellaway and Ann Bicket Palfrey. He was the only child of the five born to the couple; three, all named Thomas, were born between 1876 and 1879, all dying in infancy. Another son, William, was born in 1884 but died at the age of thirteen. The family lived in Crescent Street in Weymouth, in 1881 in a house named 'Half Moon'. Here Thomas was a Licensed Victualler while also running a boarding house for ten seafaring men. In 1891, still in Crescent Street, he was a 'Temperance House Keeper' and in 1901 he was a 'Private Hotel Keeper'.
In 1911 Thomas Kellaway Snr was a 'Retired Refreshment House Keeper' and the family were living in 6 Kellaway Cottages in Weymouth, close to the harbour. Here Thomas Jun, aged twenty-nine, was a Shop Assistant. He had enlisted in the Dorset Yeomanry in 1908, presumably on a part-time basis, and trained regularly with them every year. In 1914 he was 'Embodied' in the force, i.e. became full-time.
In October 1918 he was with the 2/1st unit which had moved to Ireland in early 1918. Presumably returning home on leave he travelled on the 10th on RMS Leinster but did not survive the sinking, nor was his body recovered. His name is recorded on the Hollybrook Memorial in Southampton and on the Weymouth Cenotaph.