People on board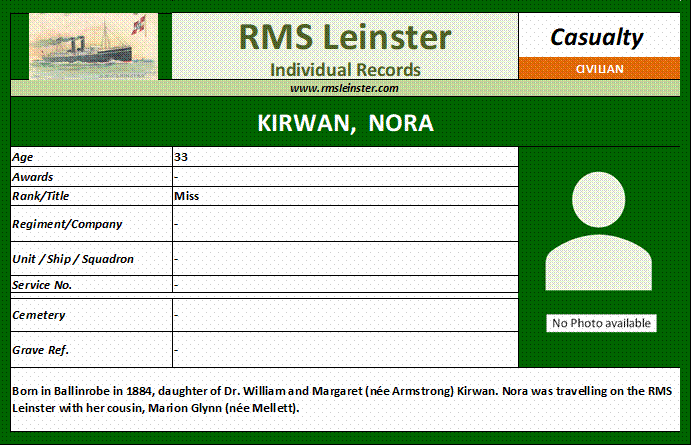 KIRWAN, Nora
Nora Kirwan was born in Ballinrobe, Co Mayo on 20 August 1884 to William Patrick Kirwan and Margaret Armstrong. From Galway, William was a Physician and Surgeon who had received his education from Queen's College Galway and Edinburgh University. Margaret, born in Mayo, was a sister of Elizabeth Armstrong who married Patrick J Mellett of Swinford and the Kirwan and Mellett families remained close. Nora was the eldest of five (possibly six) children, the two sons also becoming doctors. William Kirwan worked for over thirty years in the Poor Law Medical Service in Carraroe, Oranmore and Spiddal, and was held in the highest esteem in those areas.
Both sons, Frederick Michael, known as F.M., and William Joseph attended Clongowes Wood College for their secondary education and the National University of Ireland in Galway and Dublin for their medical degrees. F.M. joined the R.A.M.C. in 1915 and then transferred to the Indian Medical Service where he served in Egypt, India and Burma, rising to the rank of Lt. Colonel. He was a keen sportsman, in later life owning several racehorses. William J also served in the R.A.M.C. for a period and later was Assistant Medical Officer in the County Mental Hospital, Lichfield, near Birmingham.
F.M. married in February 1914 and in May his father Dr William Kirwan, who had been in poor health, died at the age of fifty-eight. Just a year later, his widow Margaret also died aged fifty-four. In 1917 one daughter, Mildred, married in London to Archibald Alexander Hall who later was a Chemistry lecturer and Warden at Henderson Hall in Newcastle-upon-Tyne. It is not known where Nora was during this period or whether she had a career of her own. Nor is it known why she was travelling on RMS Leinster on 10 October 1918, though she may have been going to visit Mildred. Nora's cousin Marion Glynn, née Mellett, whose family also was scattering through death and marriages, was also on the ship, and they may have been travelling together.
Neither Nora nor Marion survived the sinking, though both their bodies were recovered. Nora's brother William was the Informant on the death certificates for both women, registered on 19 December, which suggests that Nora's body was not found for some time.