People on board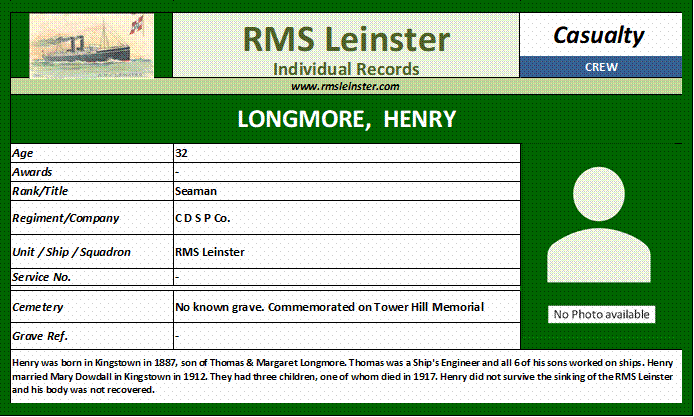 LONGMORE, Henry
Henry Longmore was born in Kingstown on the 20th July 1887 to Thomas Longmore and Margaret Byrne. Thomas, born in Galway, was an 'Engine Driver', according to the marriage certificate, and on the birth certificates of his children and in census returns he was an 'Engineer' or a 'Ship's Engineer'. Thomas and Margaret married in Kingstown in 1874 and the first son was born there; the next was born in Aghada, Cork, followed by two in Kingstown and then two more in Ardglass, Co Down. The family then returned to Kingstown, living in Sussex Street, where Henry, the seventh of the nine children, was born.
All six sons worked on ships; William, Patrick and Thomas, James and George were all 'Stewards' on the Irish Lights ships, and from 1899 Thomas worked with the City of Dublin Steam Packet Company on RMS Ulster. The only entry for Henry Longmore on the National Archives Shipping Lists is for 1914 when he was 'Cook' on the Pilot boat SS Dunleary. He could not be found in the 1911 census, but he married in 1912, when he gave his occupation as 'Tram Conductor'.
Henry married Mary Dowdall in Kingstown, giving his parents' address as 60 Mulgrave Street. Their first child, Mary Agnes, was born in Convent Road in 1913 and the second, Margaretta, was born in Paradise Row, part of Convent Road, in 1915. She died of meningitis in 1917. On her birth certificate Henry gave his occupation as 'Sailor' and he was named on the CDSPCo Crew List for 1918 as 'Seaman', and it was in that capacity that he was on RMS Leinster on the 10th October 1918. He did not survive the sinking, nor was his body ever recovered. A third daughter, Ita, was born in early 1919, after the death of Mary's husband, Henry.
Henry's father lived until 1934 and his wife, Mary, survived until 1952.