People on board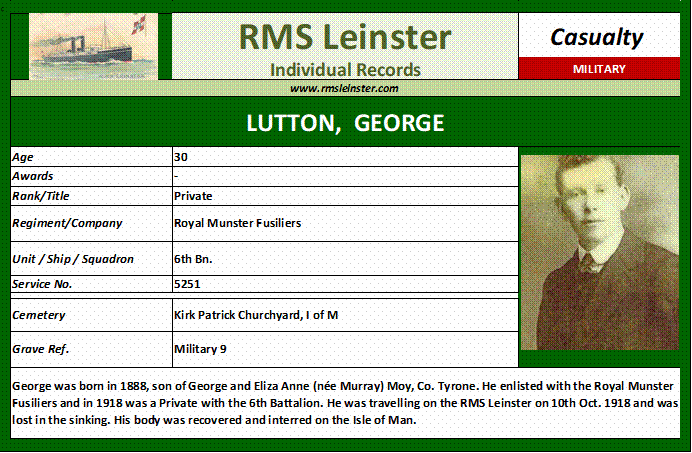 LUTTON, George
George Lutton was born on the 6th of September 1888 in Canary townland, in the parish of Moy, Co Tyrone. His parents, George Lutton, a Labourer, and Eliza Anne Murray had married in the Church of Ireland church in Moy in 1882. This was George's second marriage, his first wife having died after two years of marriage in 1874. George and Eliza's first child died in infancy, then twins were born, a daughter and a son, then two more daughters died in infancy before George was born in 1888, followed by another son in 1891. Eliza herself died in childbirth in 1895, aged just thirty.
George's sister, Mary Anne Colgan, at George's headstone on Isle of Man.
George was a 'Scholar' aged eleven in the 1901 census but he has not been found in 1911. His father died in 1913 aged seventy-six and his sister Mary Ann married in 1914. George enlisted in the Royal Munster Fusiliers where he was a Private with the 6th Battalion in 1918. In August 1915, probably prior to being sent to France, he wrote his 'Soldier's Will', an informal will organised by the Army, in which he left half of his effects to each of his twin siblings. George Lutton was travelling on RMS Leinster on the 10th of October when it was torpedoed and he did not survive the sinking.
His body was recovered on the Isle of Man and he was buried on the 9th of November in the Kirkpatrick Holy Trinity churchyard in Glenfabba. George Lutton's name is followed by that of Private Arthur Lott on a headstone erected at the time, and each soldier also has an individual Commonwealth War Graves Commission headstone. Corporal Michael Carroll, RAMC, was also on RMS Leinster and he too is buried in this churchyard with a CWGC headstone.
George's War Medals
Photos courtesy of Valerie Burrows