People on board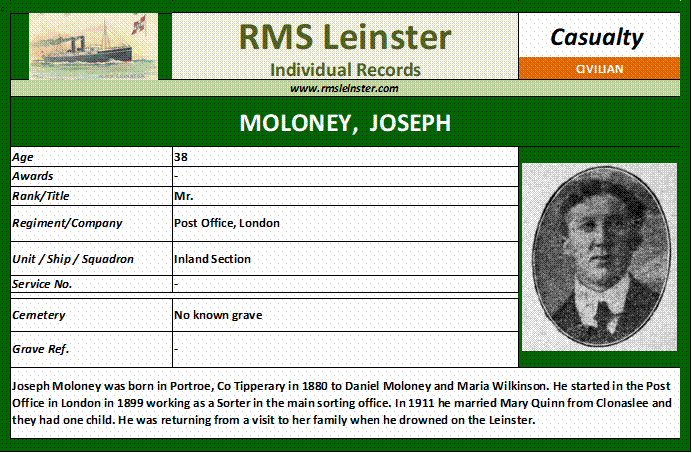 MOLONEY, Joseph
Joseph, known as Joe, Moloney was born on the 19th of May 1880 in Portroe, Co Tipperary to Daniel Moloney and Maria Wilkinson. Joseph was the youngest of at least five children. Daniel Moloney, born in Co Limerick, was a Constable in the R.I.C. and was stationed in Glounthane, Cork, in 1876 when their son Timothy was born. He was retired by the time Joe was born in Portroe. Maria Wilkinson was from nearby Youghalarra and died in March 1884 when Joe was only three. Daniel Moloney died in 1909, aged eighty-eight and only Joe and his sister Bridget were recorded in the newspaper as being present at his funeral.
Joe started in the Post Office in London in 1898, and was appointed a Sorter in the Newspaper Branch the following year, moving to the Inland Section a year later. He worked in the main sorting office at Mount Pleasant, Clerkenwell and lived in nearby Islington. In the 1911 census he was boarding with two other Irish clerks in the G.P.O. Nearby, nineteen year old Anna Mary Quinn from Clonaslee in Co Laois, who was working as a Post Office telephonist, was also boarding with several other Irish girls. In August 1911 Joseph Moloney and Mary Quinn married in Holloway and a year later they had a son, Daniel Joseph.
In October 1918 Joe was visiting Mary's family in Clonaslee, though it is not known if she and their son were with him. It appears that he was returning alone to England when he travelled on the 10th on RMS Leinster.
There was a good relationship established between the Irish and British Post Office workers, fostered by their combined work from Holyhead, and Joe may have gone below to speak with the Irish workers. Wherever he was on the ship when the torpedo struck, he did not survive the sinking, nor was his body recovered.
His loss was announced in the Nenagh Guardian on the 2nd of November and an obituary was published the previous day in the journal of the Fawcett Association. This was an early Post Office trade union, mostly representing Sorters in the London Postal Service and was later absorbed by the Union of Post Office Workers. In the obituary Joe was described as having "an unassuming, but brilliant and attractive personality … broadminded and generous". The author of the obituary was Malachi Joseph O'Gara, fellow sorter at the Inland Section and local representative of the Fawcett Association. He was born in Carrowreagh, Co Roscommon. In January 1919 HM Treasury approved a death gratuity of £201 8s 5d, equal to one year's gross pay.
Mary probably stayed living in England, though no record has yet been found to confirm this. Her son Daniel Joseph married Alice Newell in 1936 and they had three children. In the 1939 Register he was recorded as being a Radio Maintenance Engineer, District Manager, living in Watford, and he served in the Royal Air Force in WW2. He died in Oxfordshire in 2002.
With thanks to Alex Obradovic