People on board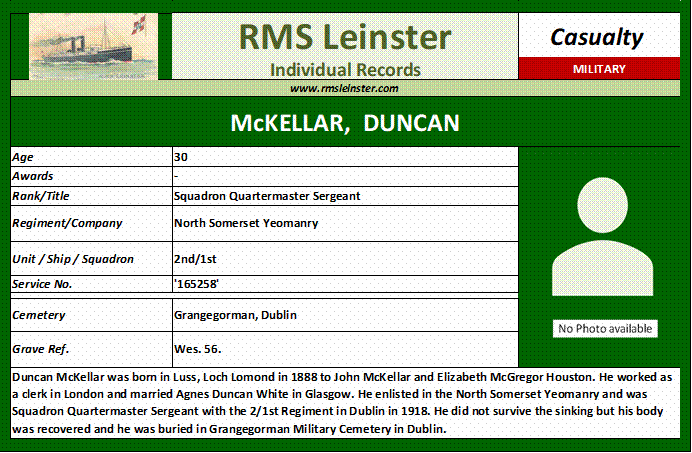 McKELLAR, Duncan
Duncan McKellar was born on the 30th of June 1888 in 'Alderdale', Luss, Dunbartonshire, close to Loch Lomond to John McKellar and Elizabeth McGregor Houston. John McKellar was a Boatman and subsequently a 'Church Officer' and Gardener. Duncan was the eldest of their seven children, three boys and four girls. In 1911 he was living in Camberwell, London and gave his occupation as Book Keeper.
In 1913 he married Agnes Duncan White, daughter of an 'Iron Turner', in Glasgow and his address on the marriage certificate was Tuffnell Park, London, while hers was Saracen Street, Possilpark. Agnes gave her occupation as Dressmaker and Duncan's was 'Stockbroker's Clerk'. It is not clear if they lived in Glasgow or London, and strangely Duncan enlisted in Bath in the North Somerset Yeomanry.
From his military number it would appear that he enlisted in 1917, the same year that his brother, James Houston McKellar, was killed in action in Belgium with the Royal Engineers. By October 1918 Duncan was Squadron Quartermaster Sergeant in the 2/1st Regiment of the North Somerset Yeomanry, a second line regiment, which had moved to Dublin early in the year.
Presumably returning to Scotland on leave he travelled on RMS Leinster on the 10th of October. He did not survive the sinking but his body was recovered and he was buried in Grangegorman Military Cemetery in Dublin. Both he and his brother James are named on the family grave in Luss and on the Luss War Memorial.