People on board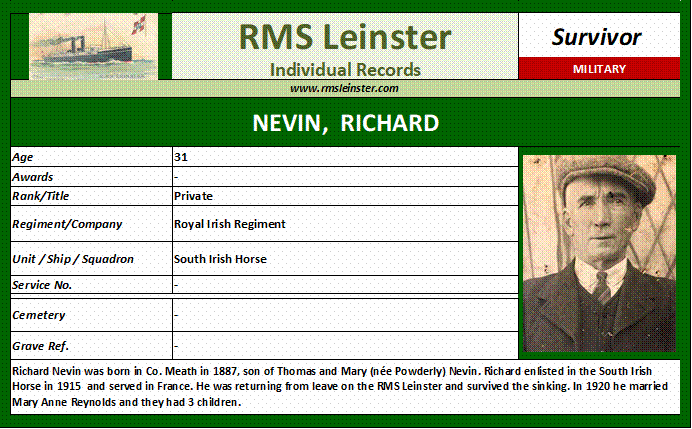 NEVIN, Richard
Richard Nevin was born on the 10th of February 1887 in Knockerk, Slane, Co Meath to Thomas Nevin and Mary Powderly, one of the older of their nine children. Thomas and Mary's marriage certificate gave their addresses as Bryanstown and Knockerk, adjacent townlands and Thomas's parents, Richard and Julia Nevin lived in the area into the 1900s. In the early 1890s Thomas and Mary moved the family to Mullaghdillon, the next townland closer to Slane. That is where they were in the 1901 census, though their name was written as Neevans.
Richard Nevin was not with his family in that census, but was a short distance away as a Servant on a large farm in Bryanstown, along with two other Nevins who may have been cousins. Richard was only thirteen at that time. Ten years later in 1911 he was working as a Groom, along with four others, in the townland of Balgill, near Navan. Nearby was the large Bective House and Estate, owned at that time by Henry Julius Stern, an Englishman of German extraction. Bective House had been the home of the Meath Hunt under its previous owner, John Watson, who was also an active polo player. Henry Stern was a Captain in the South Irish Horse and late of the 13th Hussars.
That was undoubtedly the influence that led Richard Nevin to enlist as a Private in the South Irish Horse in November 1915. The South Irish Horse was absorbed into the Corps of Hussars, and Richard Nevin served in France. He was returning following leave in Ireland when he travelled on RMS Leinster on the 10th of October 1918. He survived the sinking of the ship and the remaining weeks of the war and returned to Co Meath.

Richard Nevin's Medals. Courtesy: Mary Clarke
He continued working on the Bective Estate as head groom and car mechanic. The Stern family left Bective in the early 1920s and were succeeded by an American, Charles Bird, who with his wife ran successful race horses. In July 1920 Richard Nevin married Mary Anne Reynolds and they had three children. In their latter years they lived in Roestown near Dunshaughlin with their daughter. Mary died in 1960 and Richard in the 1970s and both are buried in Dunshaughlin Catholic cemetery.