People on board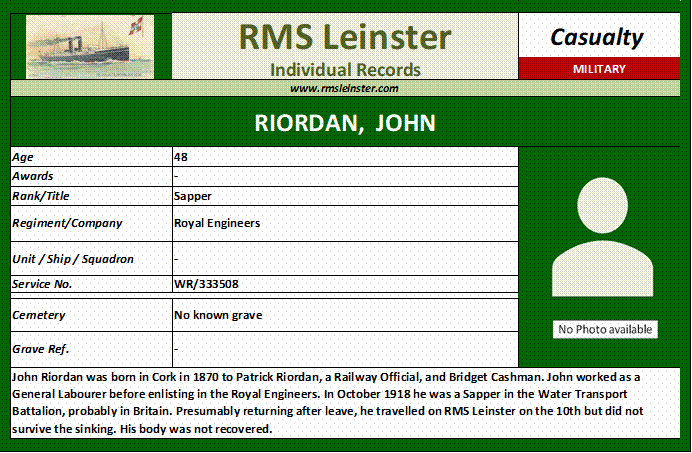 RIORDAN, John
John Riordan was born on the 4th of October 1870 in Glouthaune, Cork city to Patrick Riordan and Bridget Cashman. He was the eldest of their ten children, seven of whom were alive in 1911. Patrick Riordan worked on the railways all his life, probably the Great Southern and Western Railway, being a 'Railway Official' on his marriage certificate and the birth certificates of his children, a 'Railway Clerk' in the 1901 census and a 'Railway Storekeeper' in the 1911 census. In both censuses the family was living in a seven room, first-class house on the Lower Glanmire Road in the city.
In the 1911 census six unmarried children of Patrick and Bridget were living with their parents. John gave his age as twenty-nine though he was actually forty-one and his occupation as General Labourer. His brother William then aged thirty-one though claiming to be twenty-four, was a Railway Guard. Four sisters completed the family, the two older taking fourteen or fifteen years off their age, and even the youngest, Annie, taking three years off, being twenty years old, despite being named as a Scholar.
It is not known when John Riordan enlisted in the Royal Engineers, but in October 1918 he was working as a Sapper in the Inland Water Transport Battalion. He may have been in France or Belgium, but given that he was then forty-seven he may have been in Britain. Presumably returning from leave in Cork he travelled on the 10th of October on RMS Leinster. He did not survive the sinking nor was his body recovered. His sister Annie was named as next-of-kin on his pension records. John Riordan's name is recorded on the Hollybrook Memorial in Southampton.