People on board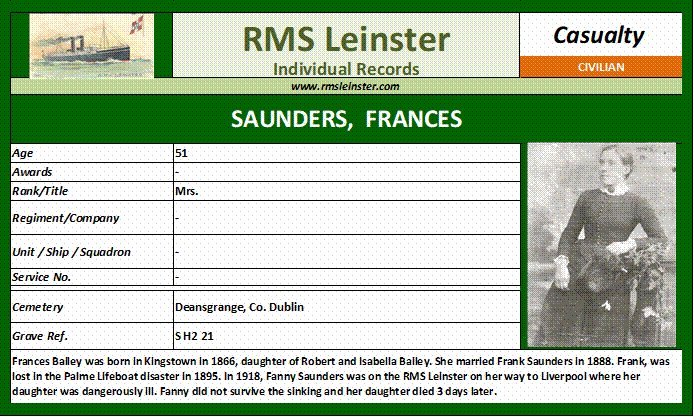 SAUNDERS, Frances née Bailey
Frances Elizabeth Bailey, known as Fanny, was born on the 2nd of December 1866 in Clarence Street, Kingstown. Her parents, Robert Kingston Bailey and Isabella Knight, had married early that year and there were at least five other children in the family. Robert was a 'Cabdriver', later a 'Coachman' and in the 1870s the family lived in Belgrave Square in Monkstown.
On the 2nd of October 1888 Fanny married Frank Saunders in the Parish Church in Monkstown. Frank was from a Kingstown seafaring family, his father Thomas being recorded as a Fisherman, Seaman, or Master Mariner over time. Both Frank and his older brother George started on fishing trawlers in the Irish Sea while teenagers, and by the 1890s were captains of yachts with high reputations in Kingstown as skilled sailors. Frank and Fanny had five children, four daughters and a son, while George didn't marry until March 1895.
On the 24th of December 1895 both George and Frank Saunders were members of the thirteen-strong Kingstown lifeboat crew that went out into Dublin Bay in a terrible storm to attempt the rescue of the crew and passengers of a Finnish ship, SS Palme. As the lifeboat approached the ship it was capsized by a huge wave, and did not right itself as it was designed to do.
Southern Section, Deansgrange Cemetery grave ref. H2 21 note image of capsized lifeboat in waves at top of headstone)
The crew of the Palme attempted a rescue, but neither they nor two other lifeboats were able to save the men. All thirteen died that day. Two days later an Irish Lights vessel managed to take everyone safely off the Palme.
Huge funerals took place to Deansgrange cemetery where the two Saunders brothers were buried side by side. George's widow gave birth to a son the following September, while Fanny Saunders was left with five children under the age of six, the youngest only two months old. That child had been born in Clarence Street, but in the 1901 census the family was sharing a house in Tivoli Terrace North. However, by 1911 they were living in a large house at 53 York Road while her mother and some of her siblings were living in No 59. According to the census record Fanny was living on a 'Pension from Lifeboat Fund'. In 1901 her eldest daughter Janet had been at the Mercers Endowed School in Castleknock, Co Dublin and by 1911 she was a Teacher.
Isabella Bailey died in May 1914 and in September Fanny's youngest daughter Frances married in Dublin. In December 1915 her daughter Isabella married a Sailor, stationed in Devonport, England, and in April 1916 her daughter Janet married a Steward from Liverpool. In December 1917 her only son, Samuel, married in Winchester. He had joined the Royal Flying Corps as a 1st Class Air Mechanic. Now Fanny was alone with her daughter Catherine in York Road. On the 9th of October 1918 she received a wire from a doctor in Liverpool telling her that her daughter Janet was dying. She immediately set off for Liverpool, taking the morning sailing from Kingstown on RMS Leinster.
Fanny Saunders did not survive the sinking of the ship but her body was recovered and identified. Her daughter, Janet Owens née Saunders, died on the 13th of October and her body was returned to Dublin from Liverpool. Mother and daughter were buried together in Deansgrange cemetery in Francis Saunders' grave and all three are commemorated on the headstone.