People on board
SWEENEY, William Joseph (Bill)
William Joseph Sweeney, known as Bill, was born on the 27th of April 1896 in Dublin and was baptized in Harrington Street Church. His parents, Richard Sweeney and Christina Delaney, were both born in Dublin city and married there in 1891. Bill was the youngest of their four children, two of whom died in infancy. The family lived in 5 St Alban's Road, off the South Circular Road, Christina's family home, later moving to number 60, and by 1901 were in Mount Pleasant Avenue in Rathmines. When they married Richard was a Clerk in the City of Dublin Steam Packet Company, a Clerk-Shipping in 1901 and an Accountant with the company by 1911.
Christina Sweeney died in October 1911 of acute bronchitis and Richard died the following February of pneumonia. At the age of sixteen Bill was an orphan with his sister Mary Christina, aged nineteen. Christina's brother, William Delaney, and his wife Annie, living in Stoneybatter, helped the two young people. Bill was employed by the C.D.S.P.Co as a Junior Clerk, at six shillings a week in the company's office in North Wall. In 1916 he transferred to RMS Leinster under Captain Birch, and in the 1918 crew list he was named as 'Assistant Ticket Clerk'.
Bill survived the sinking of the ship on the 10th of October 1918, and, along with other crew members, was called to give evidence at an Inquest the following week, during which he described the situation.
When the first torpedo hit the ship, he was below near the cabins, and having gone up on deck he was instructed by Captain Birch to get his confidential papers. Having tied them up, the Captain dropped the papers over the side. As the second torpedo hit the ship Bill Sweeney was helping to lower a lifeboat, which he managed to get into himself. Captain Birch, who had been blown off the deck by the explosion, was pulled into the same lifeboat, but it became swamped and he floated away. There were over seventy people in the lifeboat which drifted for nearly two hours before a destroyer rescued them.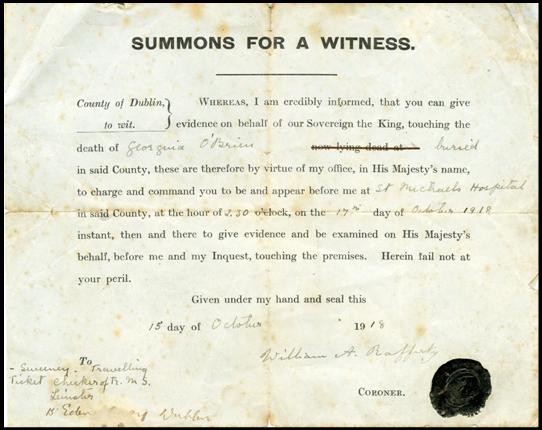 Bill Sweeney was promoted to Assistant Purser and applied for registration as a Merchant Seaman, giving Annie Delaney as his next-of-kin. However, he did not stay at sea, as he gave his occupation as 'Clerk' on his marriage certificate, when he married Eleanor Watson on the 6th of June 1923.
Their first child Clive Watson Sweeney was born in July 1924, and other children followed. Tragedy struck however, when Clive was knocked down by a car on Merrion Road outside the R.D.S. in May 1931. The six-year old had been at the annual Spring Show. The family was living on Claremont Road, Sandymount at that time and Bill's occupation was given as 'Bank Cashier'. Representatives from the Royal Bank, Blackrock U.D.C. and Pembroke Cricket Club attended the funeral.
Bill and Eleanor later moved to London and Eleanor died there in 1972. In 1979, at the age of eighty-three, Bill gave a taped interview at Roebuck Home, Dublin, where he recounted the events of 1918 in great detail. He passed away on the 16th of October 1979 and is buried in Deansgrange cemetery with his son Clive.