People on board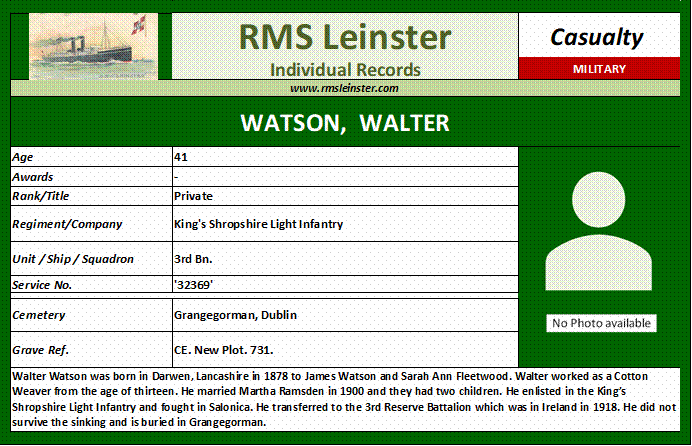 WATSON, Walter
Walter Watson was born in 1878 in Darwen, Lancashire to James Watson and Sarah Ann Fleetwood. Walter was the third of their four children, the eldest dying aged seven. James Watson was a 'Fireman and Engine Tenter', repairing engines in a factory setting, probably a cotton mill. In the 1891 census Walter, then aged thirteen, and his older sister were 'Cotton Weavers'. Their mother Sarah died in January of that year.
In June 1900 Walter married Martha Ramsden in Darwen and they had two children born in 1901 and 1902. In the 1901 census they were living with Martha's parents in Perry Street in Darwen and both gave their occupation as 'Cotton Weavers'. By 1911 the family were living on their own in Perry Street and both were still employed as 'Cotton Weavers'. By 1918 they were living in 60 London Terrace in Darwen.
Walter Watson enlisted in Darwen in the King's Shropshire Light Infantry and was mobilised in September 1916. He landed in Salonica about February 1917 with the 2nd Battalion. He was subsequently posted to the 3rd Reserve Battalion which was in Fermoy, Co Cork from early 1918. He was returning to England on leave when he travelled on RMS Leinster on the 10th of October 1918. He did not survive the sinking but his body was recovered and he was buried in Grangegorman Military Cemetery in Dublin. His name is recorded on the Darwen Roll of Honour.
Martha Watson continued living in London Terrace and was there in the 1939 Register. She died in 1951.