People on board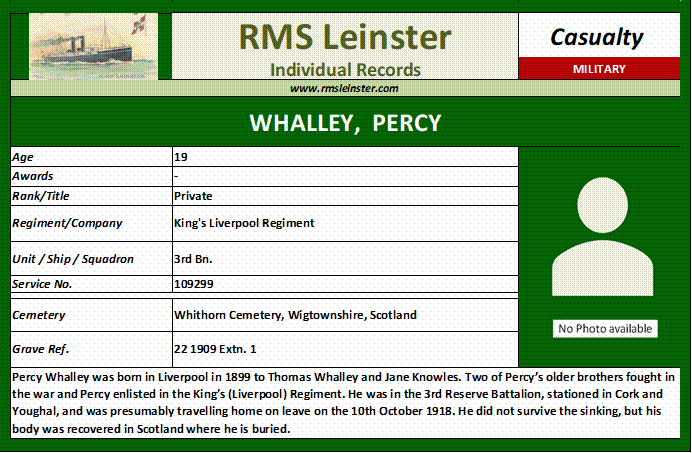 WHALLEY, Percy
Percy Whalley was born in Liverpool on the 1st of August 1899 to Thomas Whalley and Jane Knowles, the youngest of their five children. Thomas Whalley was a 'Brass Finisher' and later a 'Mechanical Engineer'. They moved several times within Liverpool and in the 1911 census Thomas was in Normanby in North Yorkshire, a 'Brickworks Manager'. With him was his eldest son Harry, 'Assistant Manager', and his only daughter Bessie, aged sixteen. Meanwhile his wife Jane was still in Liverpool with Percy and his two older brothers, Bertram and Frederick.
Within a few years however the family were together again in Halsbury Road in Liverpool. Bertram, Frederick and Percy Whalley all enlisted in the army, in the Royal Field Artillery, the Welsh Guards and the King's (Liverpool) Regiment respectively. The limited military records for Percy do not show when he enlisted but in 1918 he was in the 3rd Reserve Battalion, which was stationed in Cork and Youghal at that time.
Percy Whalley was presumably returning home on leave when he travelled on RMS Leinster on the 10th of October. Eighteen members of the King's (Liverpool) Regiment are recorded as being on the ship that day, and thirteen, including Percy Whalley, lost their lives in the sinking. His body was recovered the following month near Wigtown in south west Scotland and he was buried in nearby Whithorn Cemetery. Another, unidentified military body, was recovered from the sea in the same area about the same time and was also buried in Whithorn. This may possibly be also a victim of the sinking of the Leinster.