People on board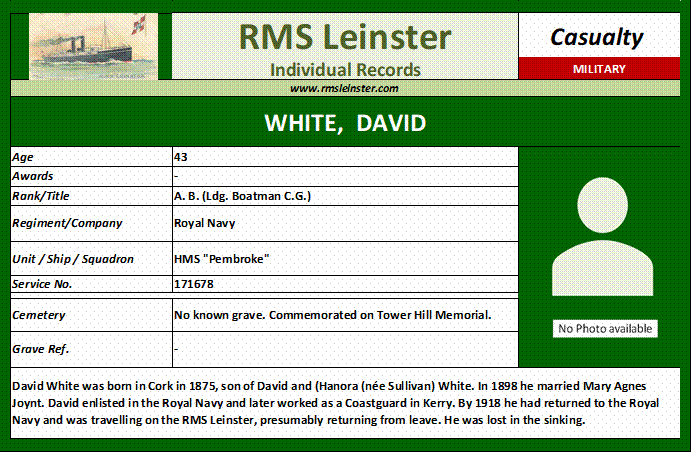 WHITE, David
David White was born in Cork city on the 27th of November 1875, the eldest of the three children of David White and Hanora (Norah) Sullivan. David Snr. was a 'Harness Maker' and the family lived at different addresses in the city. Only a few months after the birth of the third child in 1879 Hanora died of typhus, aged just twenty-five. David remarried in 1881 and he and his new wife, Mary Forde, had at least four children.
David Jnr. married Mary Agnes Joynt in May 1898, giving his occupation as 'Sailor Her Majesty's Navy'. Unfortunately there do not appear to be records available of his time in the Navy, and on the birth certificates of their first two children, David in 1899 and Nora in 1906, he just gave 'Sailor' as his occupation. He was at sea at the time of the 1901 census and Mary was living in the family home in Abbey Street with two of her siblings and her young son. She gave her occupation as 'Shop Keeper' and her sister was a 'Shop Assistant'.
David and Mary were living at 8 Magazine Road by 1906, but when twins Joseph and James were born there in 1907 David gave his occupation as Coastguard and his address as Cromane Point, Co Kerry.
At the birth of William in 1908 the address was Magazine Road though David was still a Coastguard. In the 1911 census the entire family were in Cromane, in a sizeable five roomed house owned by the Congested Board, presumably the Coastguard house.
It is not known when David White returned to the Navy, but he was working as a Leading Seaman on HMS Pembroke in 1918. On the 9th of October he travelled by train from Cork, where he had been on leave, in the company of another seaman, William O'Sullivan, who was also returning to his ship in England. In Dublin they apparently they met a female cousin of White's who was also travelling to England and together they took the train to Kingstown and embarked on RMS Leinster. Of the three only O'Sullivan survived the sinking and David White's body was never recovered.
His name is recorded on the Plymouth Naval Memorial, and Mary, who was pregnant at the time of the sinking, gave birth to a son who she named George Paul Leinster White, in memory of her husband. Growing up, the boy was known as 'Leinster', later shortened to 'Lenny'.